2016 Chrysler 300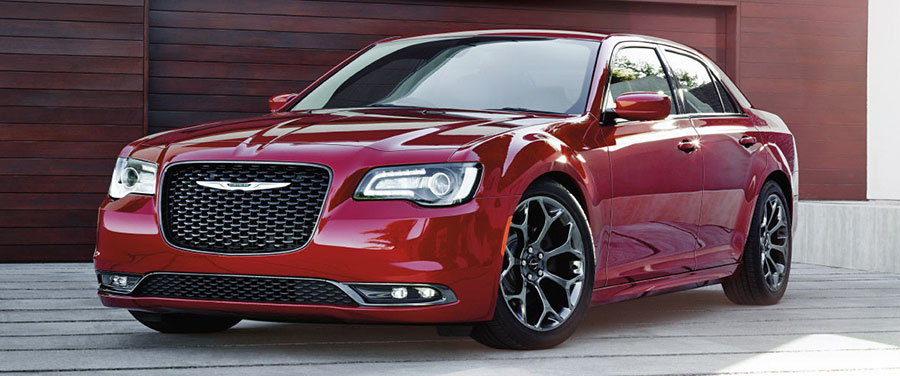 The 2016 Chrysler 300 is a luxurious full-size sedan that's known for its excellent safety record, yawning passenger space, and upscale comfort. This sedan is more than an American icon – it's the best-in-class choice for drivers who crave the finer things. Inside, the Chrysler 300 provides major passenger comfort. The latest tech features are easy to use. On the road, the 300 easily surpasses the competition. In stormy weather, all-wheel drive helps you maintain your footing on icy roads.
2016 Chrysler 300
When you're in the market for upscale comfort and generous head- and legroom, it's hard to find a better option than the 2016 Chrysler 300. This family-friendly sedan has it all – including plush, supportive seating and high-quality materials, like leather upholstery. The adjustable driver seat and tilt-and-telescoping steering wheel make it easy to find your own personal sweet spot. In back, the 300 offers road-trip-level luxury, where even tall passengers have enough room to relax. The trunk fits nicely into the 300's bigger-is-better theme, with 16.3 cubic feet of cargo space for your daily necessities.
Modern drivers crave technology, and the 2016 Chrysler 300 delivers in a major way. To start, it provides a long list of advanced safety features. The Uconnect telematics system helps you out of trouble with features like on-demand roadside assistance and automatic crash notification. With the SafetyTec Plus bundle, driver aids – such as lane-departure warning and prevention – actively monitor your surroundings and warn you of danger. The forward collision warning system includes an automatic braking feature, helping you come to a quick stop to reduce or avoid damages.
The 2016 Chrysler 300 also comes with some of the best infotainment features on the market. You'll love the central Uconnect system. Thanks to the touchscreen's crisp graphics and intuitive menu structure, you'll learn the system in a snap. Interact with the touchscreen using familiar, smartphone-like inputs – like drag-and-drop. Siri Eyes Free offers increased functionality for iPhone users, who can access important apps without looking away from traffic. Chrysler knows that you want the best in audio technology, so it gives shoppers a range of premium options – including Harman Kardon and Beats Audio.
If you're shopping for a Chrysler 300, you've likely heard tell of its thrilling performance. Choose between V6 and V8 power for the experience you prefer. Both engines pair a smooth, luxurious ride with sumptuous speed. The 5.7-liter V8 is especially impressive, offering 363 horsepower and 394 pound-feet of torque. With all-wheel drive, the Chrysler 300 navigates icy or rainy roads with determined precision.

300 300C Platinum
While all Chrysler 300 models speak to your love of luxury, the 300C Platinum takes those indulgences to the next level. This sedan is stocked with the finer things, like upgraded leather upholstery and a Harman Kardon stereo system. The cupholders can be heated or cooled to your liking. Outside, the 300C Platinum looks sharp with 20-inch wheels and special trim.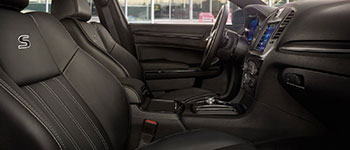 Interior Luxury
Step into the 300 and immerse yourself in refinement.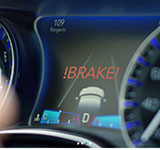 Forward Collision Warning
The system doesn't just alert you to danger – it can actively apply the brakes.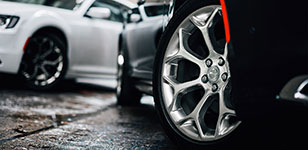 All-Wheel Drive
Brave sleet, snow, and rain with a firm grip on the road.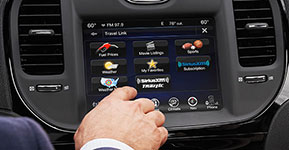 Uconnect
This system is the best in the business – stay connected from anywhere.
Conclusion
When you're looking for a classy highway companion, the 2016 Chrysler 300 is a top pick. This large sedan provides more than generous passenger space: it offers the latest in passenger comfort and convenience features. Fine leather upholstery and soft-touch cabin materials create an air of interior luxury. The 300's Uconnect system doubles down on safety and on-road connectivity. Driver aids, like forward collision alert, help you maintain passenger protection. Take the 300 out for a test drive today!