2016 Dodge Charger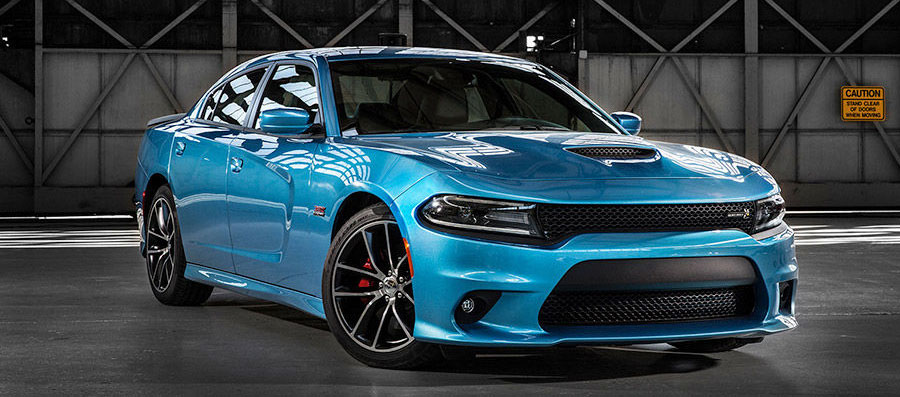 The 2016 Dodge Charger is a full-size sedan that delivers massive interior space, muscular performance, and family-friendly safety. The Charger is more than a plush people-hauler: its burly V8 engines pack plenty of punch, making it the perfect pick for driving enthusiasts. The cabin supplies all the latest tech innovations, giving you the most in passenger protection and smartphone integration features. This year, the Charger is more refined than ever, with items like upgraded leather seats.
2016 Dodge Charger
You might already be salivating over the 2016 Dodge Charger's high-performance engines, but you'll be equally impressed with its newly refined cabin. This year, Dodge introduces a number of new features to indulge your taste for luxury. Throughout the cabin, you'll find high-end materials and modern ergonomic design for maximum comfort. The upgraded leather seats treat you to plush support and a certain sense of style. The Charger's handsome retro touches, like the T-handle shifter, remind you that this isn't your average family sedan. No matter where you choose to sit, you'll find passenger space to spare. The trunk provides a healthy 16.5 cubic feet of space for all your cargo needs. It's also easy to transport bulkier items – simply flip down the folding rear seats backs to increase cargo space.
Besides sporty style and comfort, the Charger is stocked with wide-ranging tech gear. The Charger's Uconnect infotainment system is one of the best available, with crisp, clear graphics and easy-to-use menus. You'll work the system like an old pro in no time at all. When you combine the voice command features with Uconnect's smartphone integration, you get quick access to features like call and text – all without looking away from traffic. The Charger's LED interior lighting provides a warm glow during nighttime rides. With the 10-speaker Beats audio system, your favorite, time-tested playlists sound brand new.
The 2016 Dodge Charger's modern technology does more than keep you connected – it offers substantial passenger protection. Antilock disc brakes bring the Charger to quick stops, even from high speeds. Advanced systems, such as the blind-spot warning system, actively search for danger and warn you of potential problems before they can become an issue. No matter how fast you're travelling, the frontal collision mitigation system can automatically apply the brakes when it senses an imminent crash. The Charger also impresses with its crash test scores. The Insurance Institute for Highway Safety gave the Charger its top score of "Good." In government crash tests, it earned a perfect five-star rating for overall protection.
If you aspire to pure speed and a spirited ride, you've come to the right place. Whether you prefer V6 or V8 power, the Charger engine lineup is big on high-octane performance. Ranging from 292 horsepower in the 3.6-liter V6 to 707 horses in the supercharged 6.2-liter V8 engine, this sedan offers a little something for every kind of driving enthusiast.

Charger SRT Hellcat
If you crave legendary speed, the infamous SRT Hellcat is the Charger for you. Under the hood, its supercharged 6.2-liter V8 engine pumps out 707 horsepower and 650 pound-feet of torque for a truly heart-stopping ride. You'll go from 0 to 60 mph without even noticing.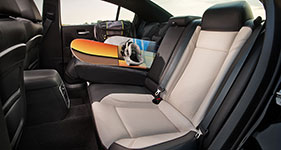 Sporty, Spacious Interior
No ride – long or short – ever feels like a chore.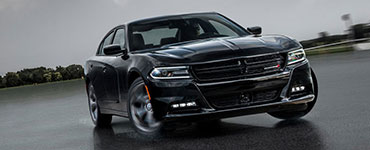 Muscular Exterior Style
They'll see you coming from miles away.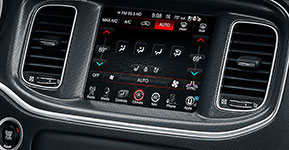 Uconnect
This infotainment system is a cut above the rest.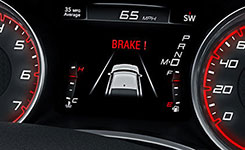 Advanced Brake Assist
The Charger lets you know when you need to hit the brakes.
Conclusion
If you crave the family-friendly space of a full-size sedan and the thrilling performance of a muscle car, there's no better option than the 2016 Dodge Charger. Inside, you'll enjoy an abundance of passenger space, high-end tech features, and luxuries like upgraded leather upholstery. Advanced safety equipment provides the latest and greatest in passenger protection. On the road, the Charger balances a smooth, comfortable ride with exhaustive speed and power. Take the Charger out for a test drive today!