2016 Jeep Cherokee vs Toyota Rav4

The 2016 Jeep Cherokee and the Toyota RAV4 are both innovative crossover SUVs that provide roomy seating for five passengers, a smooth ride, and world-class safety features. Before you decide which model is right for you, check out our side-by-side comparison guide.
2016 Jeep Cherokee vs Toyota Rav4
Off-Road Capabilities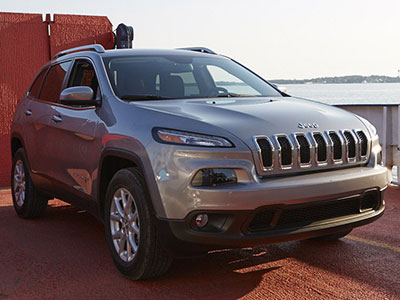 There's no crossover SUV quite like the 2016 Jeep Cherokee, which combines family-friendly comfort with superior off-road prowess. Test-drive the Cherokee Trailhawk to find out what rugged rides are all about. This model provides 8.7 inches of extra ground clearance and performance-enhancing gear like a robust four-wheel-drive system.
With the Toyota RAV4, shoppers can choose all-wheel drive, but this system isn't exactly designed for rugged trails. Instead, the all-wheel-drive system provides extra traction when you most need it, helping you maintain a safe ride on slick surfaces.
Safety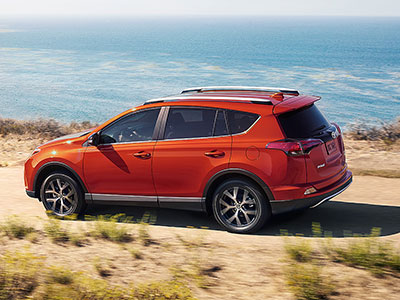 The Toyota RAV4 impressed us with its excellent crash-test scores. In government crash tests, it earned a perfect five-star rating for overall protection. The Insurance Institute for Highway Safety gave the RAV4 its top score of "Good." This peppy crossover also features wide-ranging driver aids, including a forward collision mitigation system that can automatically apply the brakes if you fail to act swiftly.
In terms of passenger protection, the Cherokee is a close second. It also earned the IIHS's top score of "Good." The rearview camera maximizes visibility as you back out of unfamiliar driveways. Driver aids, including blind-spot alert and lane-departure warning systems, scan your surroundings and advise you on nearby danger.
Interior Comfort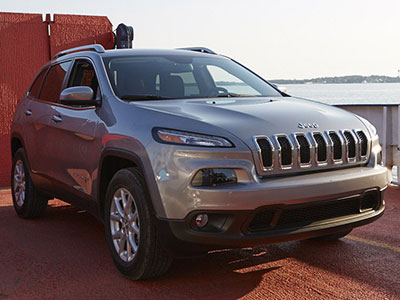 If you crave a little luxury in your life, the 2016 Jeep Cherokee certainly delivers. All seating arrangements provide generous passenger space and posh, supportive comfort. Upscale features, including leather upholstery and heated front seats, take passenger comfort to the max.
Unlike the Cherokee, the RAV4 doesn't offer upgrades like leather upholstery. Still, its cabin is home to a sleek, modern design. The rear seats recline for increased comfort during road trips. The rear liftgate is both power-operated and height-adjustable, which comes in handy under low-hanging garage ceilings.
Tech Features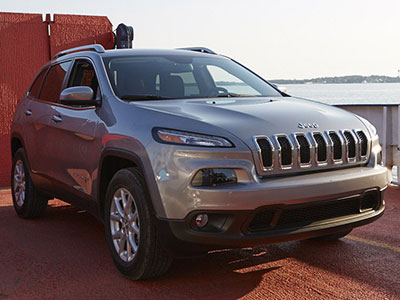 Once again, the 2016 Jeep Cherokee takes a healthy lead. Its Uconnect infotainment system is among the best out there – thanks to its responsive touchscreen and intuitive menu options. In addition to large virtual buttons, it also offers physical controls that are easy to use as you navigate traffic.
The RAV4 makes use of the Entune infotainment system. Like the Cherokee's Uconnect interface, Entune offers seamless smartphone integration, so you can make calls or stream your favorite music from anywhere.
Learn More about the Jeep Cherokee

After you test-drive these models, we think you'll agree – the 2016 Jeep Cherokee has an impressive edge over the competition. Inside, passengers enjoy ample head- and legroom for long-term comfort. Tech features, including the Uconnect interface, deliver all the latest in smartphone integration. When it comes to safety, the Cherokee maximizes protection with high-tech driver aids and a wealth of airbags. Finally, this family-friendly crossover lets you hit the off-road in earnest – unlike other vehicles in this segment.