2017 Chrysler 300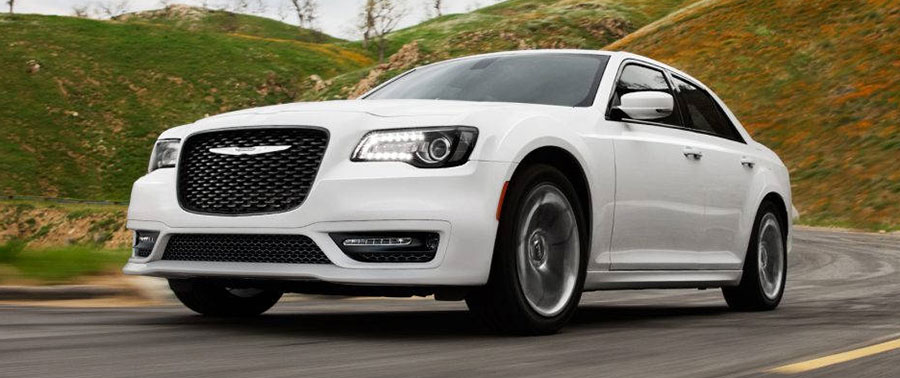 If you like your cars small, subtle and European influenced, you might want to look away now. However, if you like your cars big, bold, brash and undeniably American, few cars out there measure up as well as the 2017 Chrysler 300.
2017 Chrysler 300
Though it's more than just looks, the 2017 Chrysler 300 is known for its exterior styling. Still unmistakably ruggedly American in its attitude, the 300 has been refined to combine the best of both worlds–American swagger with European refinement. It's a sedan that forces you to take notice, with a bold grille and front fascia, but with subtle curves that might remind you of a luxury vehicle.
The 2017 Chrysler 300 straddles the line between mass market and luxury, but it does it to your advantage. The 300 looks, feels, and drives like a luxury car but without the staggering price tag to go with it. Inside the 300 it's quiet, comfortable, and well-built with just enough engine, road, and wind noise to keep the driver engaged. The seats are large and supportive, and front seat passengers will also find them highly adjustable. The cabin is quite tech-happy, and the materials are of a very good quality, especially at the higher trim levels. There are cup holders and cubby holes all over the place, and the trunk offers a generous 16.3 cu.-ft. of cargo volume.
The 2017 Chrysler 300 is packed with features at all levels, to the point where it really does put some full-blown luxury sedans to shame. The entry level 300 Limited includes as standard power features, power-adjustable front seats that are also heated, leather upholstery, dual-zone automatic climate control, keyless ignition and 18-inch alloy wheels. The standard infotainment system is the excellent Uconnect 8.4, which comes with an 8.4-inch touchscreen, a rear view camera, an AM/FM radio, Apple CarPlay and Android Auto compatibility, satellite radio, a pair of USB ports, Bluetooth connectivity and streaming, voice control and an auxiliary input. It's hard to imagine anyone considering the 2017 Chrysler 300 as anything but well-appointed.

300 Power
You can opt for two different engines in the 2017 Chrysler 300 lineup. The standard powerplant is a 3.6-liter Pentastar V-6 producing 292 horsepower, while the alternate option is the 363 horsepower 5.7-liter Hemi V-8 upgrade for the 300S, 300C and the 300C Platinum. The V-8 can propel the Chrysler from a standing start to 60 mph in as little as 5.8 seconds, delivering that power in a smooth, controlled way that's perfectly suited to a car that leans more toward luxurious than sporty.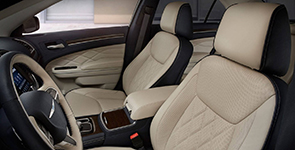 Leather Luxury
Trick out your cabin with leather-wrapped and accent-stitched seating, instrument panel, doors and center console.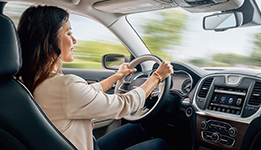 Harman Kardon Sound
Premium sound system comes standard on the Platinum trim.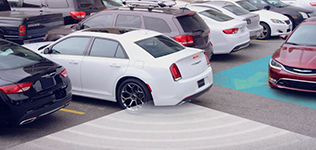 ParkSense
Available system of four sensors positioned on the front and rear bumpers helps warn you when you get too close.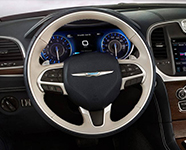 Heated Steering Wheel
Programmable to activate automatically through the available Remote Start when temperatures outside dip below 40 degrees.
Conclusion
If you want a full-size sedan that makes absolutely no apologies for its all-American heritage and style, you'll struggle to do better than the 2017 Chrysler 300/300C, especially for the price. It checks all the boxes for Americana cues, such as bold styling, big shoulders, a big footprint and available V-8 power, but it also offers a considerable amount of comfort and luxury too. It has mellowed a little over the years, but only in ways that enhance it even further.