2017 Chrysler Pacifica vs Kia Sedona

The 2017 Chrysler Pacifica and Kia Sedona are popular among the minivan set, bringing the heat with three rows of family-style comfort and all the modern safety and infotainment features you need on the highway. But which of these classic minivans saves you the most on gas? Which is stocked with the savviest convenience features? Our comparison guide is here to help you select the right minivan for you and your family.
2017 Chrysler Pacifica vs Kia Sedona
Family-Friendly Comfort: 2017 Chrysler Pacifica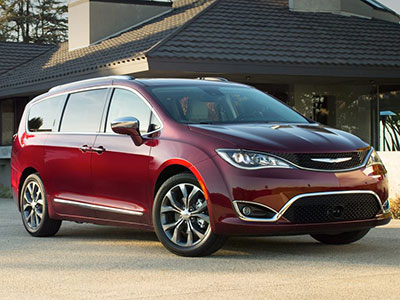 You'll love the Pacifica's upscale interior, which surpasses even the highest expectations with its handsome trim, quality materials, and airy cabin. Most importantly, it's got three roomy rows of passenger space for your family outings. When your kids climb aboard, they'll find plenty of cubbies, slots, and bins for their favorite carry-on items. The collapsible second-row captain's chairs increase cargo space in a jiffy, giving you one less thing to worry about when you head to IKEA.
In classic minivan tradition, the Kia Sedona provides three rows of seating for big families on the move. There's plenty of comfort to go around, though we do wish there was a little extra leg-room in the third row. The second row also reclines, which is always a plus on long trips.
Safety: 2017 Chrysler Pacifica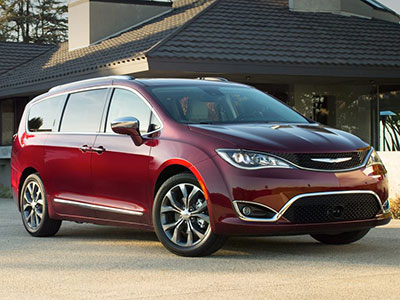 The Pacifica is also our pick for passenger protection, because its many high-tech driving aids do an excellent job of keeping you out of trouble. Street-smart technology, like forward collision warning, alerts you to danger and can even apply the brakes in the face of an oncoming crash. When you add the 360-degree camera system, the Pacifica takes the guesswork out of parallel parking.
Like the Pacifica, the Kia Sedona is available with emergency telematics technology that include features like roadside assistance and automatic collision notification, effectively helping you out of a jam. You won't find a 360-degree camera, but the standard rearview camera helps you ease of out an unfamiliar driveway without incident.
Technology: 2017 Kia Sedona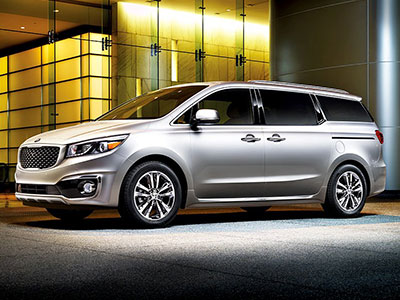 These days, a tech-savvy minivan is equivalent to a kid-friendly minivan. The Kia Sedona offers complete smartphone integration, with Apple CarPlay and Android Auto connectivity, so your kids can play deejay and you can make hands-free calls. Kia's Uvo infotainment system is easy to use, thanks to its a responsive touchscreen and intuitive voice controls.
Like the Sedona, the 2017 Chrysler Pacifica offers an impressive rear-seat entertainment system, so your kids can play video games or watch movies on longer trips. However, the Pacifica's Uconnect infotainment system won't include Apple CarPlay and Android Auto technology until the 2018 model year. However, you'll still enjoy a crisp, easy-to-use touchscreen and convenient voice controls throughout your travels.
Fuel Economy: 2017 Chrysler Pacifica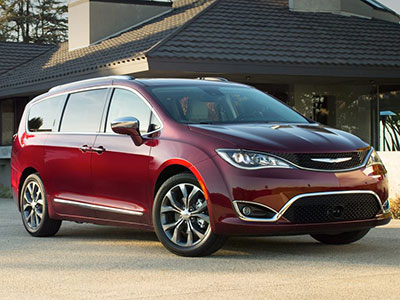 Save the most on gas in the 2017 Chrysler Pacifica. This minivan earns up to 19 city/28 highway mpg. Whether you're cruising around town on an errand run or coasting up the highway to your next vacation destination, the Pacifica is budget-friendly. Properly equipped, your Pacifica can even tow up to 3,600 pounds, so you can bring your family fishing boat along for the ride.
Of course, the Kia Sedona isn't far behind. Depending on which trim model you select, the Sedona achieves up to 18/25 mpg. This minivan is also known for its smooth, quick ride, getting you up to highway speeds in snappy fashion.
Learn More about the Chrysler Pacifica

Even with so many other options to choose from, minivans remain the top choice for family-minded drivers. And, out of these two popular models, the 2017 Chrysler Pacifica is our top choice. In it, you'll find everything you need for a comfortable, companionable ride – from plush, comfortable seating to the optional rear-seat entertainment system. High-tech safety features help you make your way across town with composure and confidence. The Pacifica's impressive fuel economy will bolster your budget, so you can save money or splurge on the occasional Frappuccino.