2017 Dodge Challenger SRT Hellcat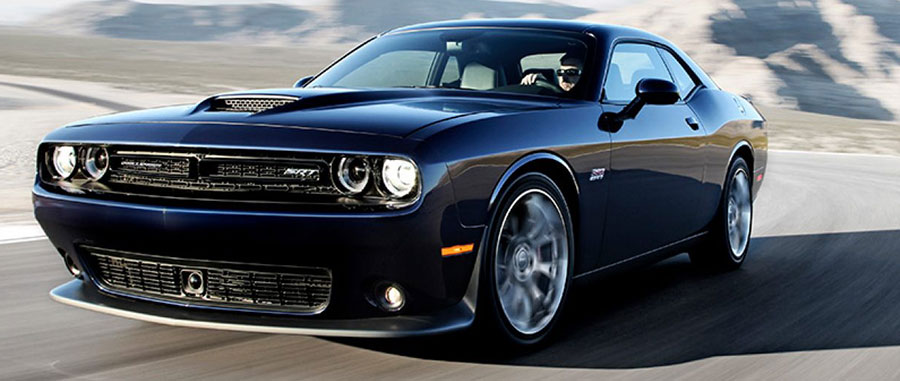 The 2017 Dodge Challenger SRT Hellcat is a true force to be reckoned with – a high-performance muscle car in every sense of the phrase. Its exclusive supercharged Hemi SRT Hellcat V8 provides explosive power straight off the line. Whenever you crave a little extra attention, simply sound the Hellcat's delicious exhaust note. Inside, the Challenger SRT Hellcat bests competitors with expansive passenger accommodations and – surprise! – a comfortable ride.
2017 Dodge Challenger SRT Hellcat
If you know anything about the 2017 Dodge Challenger SRT Hellcat, it's that, under the hood, its supercharged 6.2-liter V8 engine amps up the party with 707 horsepower and 650 pound-feet of torque. Other muscle cars of this caliber – think the Shelby GT350 Mustang and Camaro ZL1 – simply can't compete with that kind of output. It's the premium choice for tire-burning speed. The SRT Hellcat also comes with an exclusive, sport-tuned suspension for amplified handling on and off the racetrack. The powertrain's lightning-quick response time is exactly what every driving enthusiast craves, whether you're stuck behind a slow-moving semi or all-in at the local drag spot.
It might be tuned for all-out athleticism, but the SRT Hellcat still demonstrates excellent manners in day-to-day driving. Here, again, it easily surpasses the competition. Other muscle cars – being tuned for maximum precision and a sporty ride – can feel firm over the pavement, which is normally something that just comes with high-performance territory. The SRT Hellcat, however, treats a cabin full of passengers to a smooth, quiet ride.
As if it were bent on outdoing competitors in every way, the 2017 Dodge Challenger SRT Hellcat also supplies premium passenger accommodations. Both rows are roomy. The rear seats are especially appealing, because other cars in this segment tend to treat them as an afterthought. Instead, the SRT Hellcat provides roomy digs for up to five adult-size passengers. Naturally, the SRT Hellcat is also a luxurious beast. The cabin's Nappa-leather-and-suede upholstery even offer your choice of black or black with ruby red trim. If you guessed that the trunk's 16.2 cubic feet of cargo space would easily outdo the competition, you're not only right – you're ready to haul a store of weekend luggage, golf clubs, and tennis gear to your favorite getaway spot.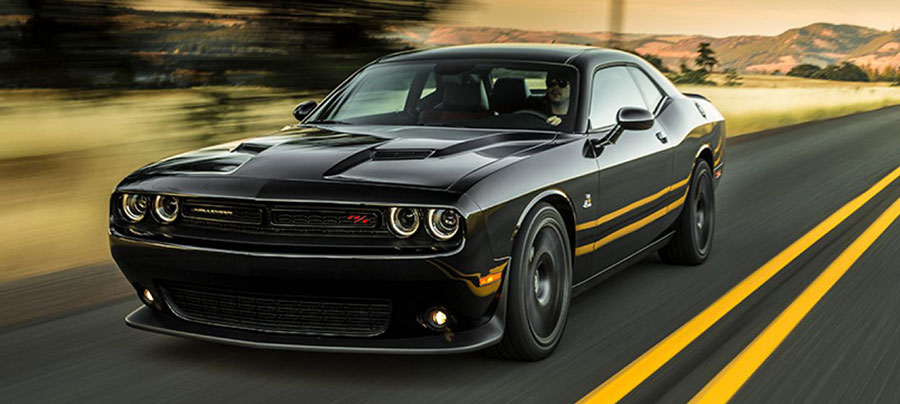 Challenger SRT Hellcat Driving Experience
If it's your first time learning the ways of the SRT Hellcat, Dodge supplies a special one-day course at the SRT Driving Experience School. There you'll explore over everything from how to regain control of a skidding car to how to react in an emergency. You even get to experience what it's like to drive on a proper racetrack – something the SRT Hellcat was undoubtedly born to do.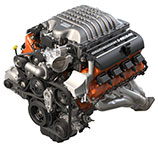 Supercharged 6.2L Hemi SRT Hellcat V8
Experience the thrill of 707 horsepower and 650 pound-feet of torque.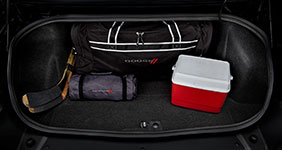 Class-Leading Cargo Capacity
Unlike competitors, the Hellcat sports enough cargo space for a month's worth of luggage.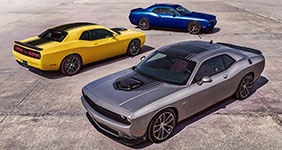 Chiseled Good Looks
With its iconic style and thunderous exhaust note, people can't help but look your way.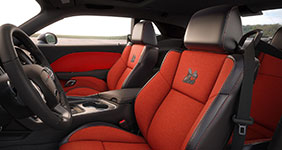 Best-in-Class Passenger Space
No other car in this segment doubles as a family-friendly hauler.
Conclusion
The 2017 Dodge Challenger SRT Hellcat has to be experienced to be truly believed. Its known first and foremost for its cutthroat competitive edge on the racetrack, but it's also a class leader in terms of passenger space and long-term comfort. The SRT Hellcat combines streamlined acceleration and sport-tuned suspension with an incredibly smooth ride, making you feel confident both on the racetrack and in regular old highway traffic. Even if you're a newbie, a day at the SRT Driving Experience School will put you on the right track toward NASCAR-level performance.