2017 Dodge Charger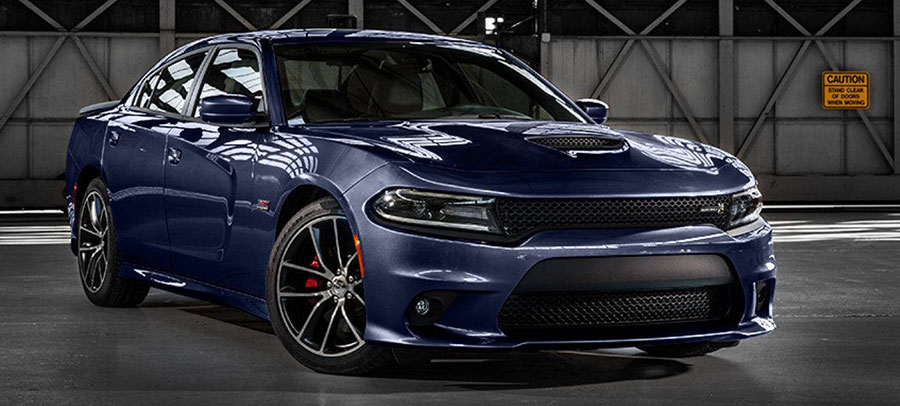 The 2017 Dodge Charger is legendary for its massive muscle, but it's also a sublimely comfortable family hauler and something of a tech genius. On the road, no other full-size sedan comes close to its athletic power and performance. But, inside, the Charger is equally appealing. Both rows supply the head and leg room you don't typically find in high-performance vehicles, which often sacrifice interior comfort for aerodynamics.
2017 Dodge Charger
In terms of power and performance, this high-performance sedan doesn't disappoint. Four engine options provide between 292 and 707 horsepower, which means that, with the Charger, you're either fast or super fast. Rear-wheel drive lends itself to the Charger's old-school, tire-burning performance. On the Charger SE and SXT models, you can even add all-wheel drive, taking traction to new heights. This is a great option for drivers who live in rainy or icy climates, where all-wheel drive means increased safety.
And, speaking of safety, you'll be pleased to note that the Charger's massive muscle comes with great safety capabilities. In government crash tests, the 2017 Dodge Charger earned a perfect five-star rating for overall protection. (https://www.nhtsa.gov/vehicle/2017/DODGE/CHARGER/4%252520DR/RWD) The Insurance Institute for Highway Safety gave the Charger its top score of "Good." (http://www.iihs.org/iihs/ratings/vehicle/v/dodge/charger-4-door-sedan) The Uconnect Access feature lets you interact with your Charger via a smartphone app. You can use it to lock the doors remotely and, if your alarm goes off, it sends you a text notification. With the rearview camera, the Charger provides an impressive view of any objects lying in your path, like bikes or wandering grocery carts. The forward collision warning and mitigation system intervenes when it senses an oncoming crash, actively applying the brakes to help you come to a quick stop.
The one thing that the 2017 Dodge Charger has in common with other full-size sedans is its ability to transport your friends and family in total comfort. The cabin offers incredible passenger space, with head and leg room for all shapes and sizes. All models come with dual-zone climate control, which does an excellent job of setting two different temperatures for driver and passenger, increasing comfort during long rides. If you're looking for a little extra luxury, you'll find it in the heated seats – front and rear – which keep passengers cozy when winter hits hard.
The 2017 Dodge Charger tech lineup speaks every millennial's language, with features that include complete smartphone integration and a device-charging USB port. The Uconnect infotainment system includes a crisp 8.4-inch touchscreen and voice controls, both of which make it easy to find the app you need and make the necessary adjustments. Apple CarPlay and Android Auto connectivity lets you interact with smartphone apps directly on the Uconnect central touchscreen, so you don't have to turn away from traffic to peer at your phone.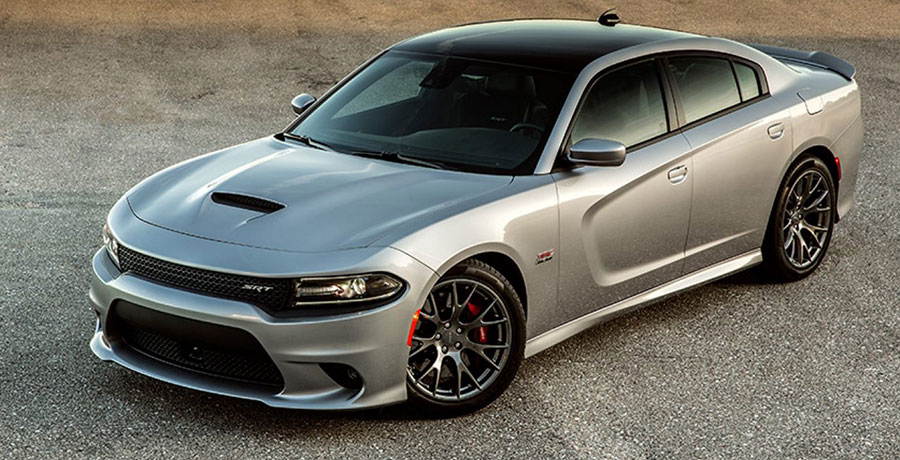 Charger SRT Hellcat
The infamous 2017 Dodge Charger SRT Hellcat supplies a surge of pure power with 707 horsepower and 650 pound-feet of torque. Upgraded steering and suspension tuning lend themselves to the Hellcat's racecar-ready performance. This model also supplies plenty of style, inside and out. If your friends somehow aren't impressed by the Hellcat's stunning speed, they won't be able to help falling in love with the comfy, all-leather seats.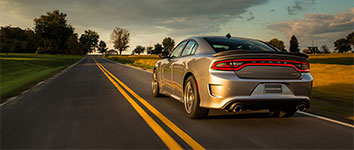 Legendary Hemi Power
In this segment, nothing beats the Charger's thunderous acceleration.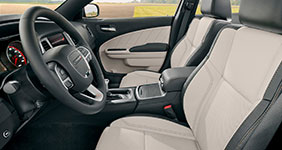 High-Performance Comfort
There's a lot to like about the Charger's spacious cabin.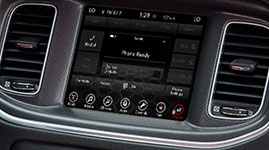 Uconnect
With one of the best infotainment systems on the road, staying connected is simple.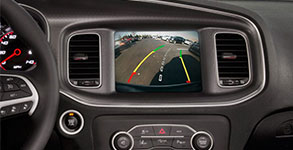 ParkSense Rear Park Assist System
When you're moving in reverse, this system alerts you to any objects in your path.
Conclusion
Part racecar and part family-friendly sedan, there's nothing quite like the 2017 Dodge Charger on the road today. Hemi engine options kick up the dust on long stretches of lonely highway, but they're also up to the task of navigating the busy highways of your daily commute. Inside, the Charger feels singularly spacious, perfect for you and a posse of passengers.