2017 Dodge Charger vs Ford Mustang

You love driving and want a car with tons of sporty styling and performance to match–but you don't want to have to pay a small fortune for the pleasure. You're in luck! You've got a number of great options right now, one of which is the iconic Ford Mustang. If you want the added capability of four doors, you might also consider the sensational 2017 Dodge Charger. While a two door sports coupe and a full-size sedan might not normally be obvious vehicles to compare, when the sedan is a sporty as the Charger, it makes sense. Read on to see how these two powerhouses compare.
2017 Dodge Charger vs Ford Mustang
Exterior Styling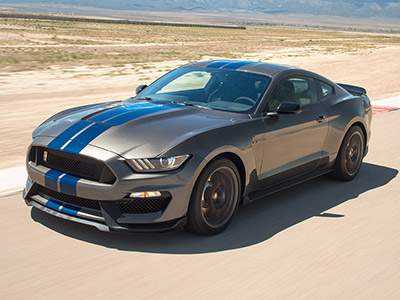 Though these have different body styles, both the Charger and the Mustang are muscle cars. The Charger can look fairly subdued and sensible in a basic form, but there's plenty of options that will have it looking like a caged beast ready to pounce too.
The Mustang looks like we expect a Mustang to look, and this latest incarnation looks superb in both its fastback or convertible formats. It's a modern evolution on an undeniably classic theme, and despite being entirely contemporary is still instantly recognizable as a Mustang. We'll give this win to the Ford for iconic styling that never disappoints.
Interior Comfort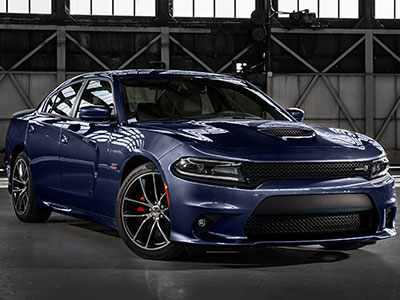 There's a ton of room inside the 2017 Dodge Charger, which means it really is a muscle car that can also serve admirably as a family vehicle especially with those two large rear doors. There's a big difference in price between base and top trim levels, but you're not short changed at the lower end of the spectrum in terms of quality materials and appointments either.
You do pay a price for the fastback format inside the Mustang as the rear seats are only really suitable for fairly small people, especially on longer journeys. Although the style and design of the Ford's interior is impressive enough and there are plenty of useful storage spaces, a few too many low grade plastics in evidence give this section to the Charger.
Trim Levels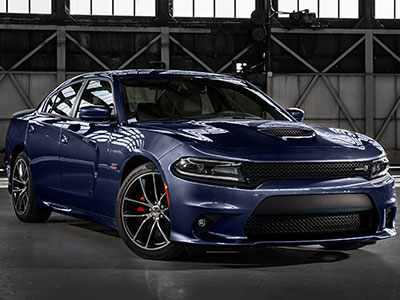 The 2017 Dodge Charger lineup has seven trim levels. The entry model is the SE, which starts at a very reasonable $27,995, and the top model is the near-legendary SRT Hellcat, which considering its performance comes in at a still very reasonable $67,645. In between there's now the SXT, R/T, Daytona, R/T Scat Pack and the Daytona 392.
The Mustang offers six trim levels, although all but the Shelby GT350 come in both coupe and convertible format. The entry model is the Mustang V-6, and from there it goes to the EcoBoost, EcoBoost Premium, GT, GT Premium and finally the Shelby GT350. Between coupe and convertible, that makes 12 options–for sheer simplicity, we'll give this one to the Charger.
Power and Performance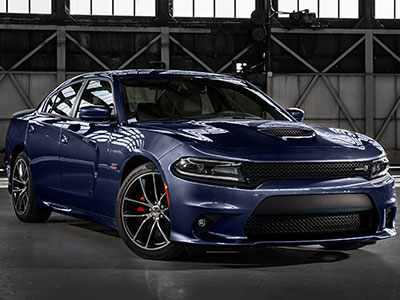 The base engine in the Charger is a meaty 3.6-liter V-6 putting out 292 horsepower, which is pretty good as a starting point. However the real party piece is the 707 horsepower delivered by the 6.2-liter supercharged V-8 in the Hellcat, and it's 0 to 60 mph time of just 3.7 seconds and top speed of 204 mph.
The Mustang's standard engine is a 300 horsepower V-6 so it's more powerful than the base engine in the Dodge, but there's also a thoroughly modern EcoBoost inline-four that's more powerful than the standard V-6. The Shelby GT350's 5.2-liter V-8 is good, but at 526 horsepower it's not even close to Charger Hellcat good, so this section goes to the Dodge Charger.
Learn More about the Dodge Charger

Your final decision between these two will probably come down to something more emotional than facts and figures, which is understandable. However, if you do want to look at things more analytically, the 2017 Dodge Charger is hard to argue against. It's bigger, more practical and more powerful than the Mustang, and the handling and ride quality are truly excellent for such a big car. You can even have all-wheel drive now with the Charger, which really does set it apart from most of its muscular rivals, especially the Mustang.