2017 Dodge Grand Caravan vs Toyota Sienna

When you want a kid-friendly, do-anything vehicle in an inexpensive package, minivans like the 2017 Dodge Grand Caravan and the Toyota Sienna stand apart from the competition. Before you decide which of these models will look best in your driveway, check out our four-category review to see how they compare.
2017 Dodge Grand Caravan vs Toyota Sienna
Family-Friendly Space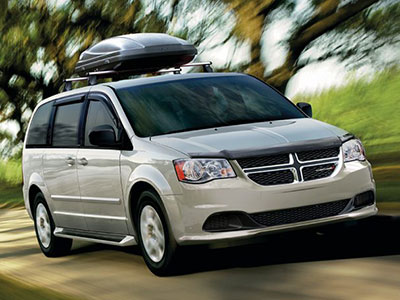 The Grand Caravan hits all kinds of sweet spots, whether you're looking for premium legroom for your growing kids or a great view of the road ahead. It can even get luxurious, with innovative features like second- and third-row sunshades to protect the cabin from summer sun. The cabin's ambient interior lighting isn't merely luxurious – it helps you find runaway toys during your nocturnal rides or hijack the snacks on a long road trip.
While the Sienna offers its own brand of plush, supportive seating, it does so at a much steeper cost than what you see with the Grand Caravan. Still, if you're willing to pay more, it's hard not to love the Sienna's footrests, which slide fore and aft and help passengers make the most of their road-trip naps.
Safety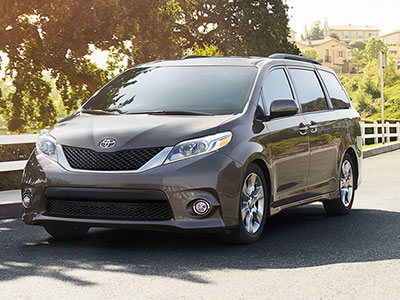 In government crash tests, the Sienna came away with a perfect five-star rating for overall protection, making it our pick in this important category. Driver aids come in handy when you've got to divide your time between managing your passengers and navigating heavy traffic. The Sienna's forward collision warning system, then, is pure gold, letting you know when you need to slow down to avoid a potential crash.
The 2017 Dodge Grand Caravan is no slouch in the safety department either, with a five star side crash rating as well as some driver aids, so you can count on an extra layer of vigilance in a pinch. The blind-spot monitoring system, for example, is just what you need to switch lanes as safely and efficiently as possible.
Modern Convenience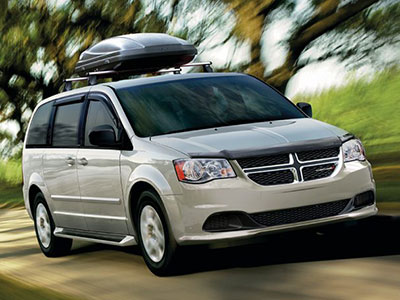 With so many unique features, the Grand Caravan is our pick for convenience. Dodge's nifty Stow 'n Go second-row seats completely disappear into the floor with barely the flick of a lever, freeing up space for your Christmas shopping hauls with minimal effort on your part. If you're sticking with the regular cargo hold, the power liftgate offers easy access to your road-trip supplies with a one-button push.
If the Toyota Sienna isn't a standout here, it still aims to help you keep things simple. It matches the Grand Caravan in terms of easy child-seat installation. The second-row bench seat even has a sliding center section, so you can position a child seat closer to the front row. This makes it easier to hand little Billy a snack without looking away from traffic.
Tech Gear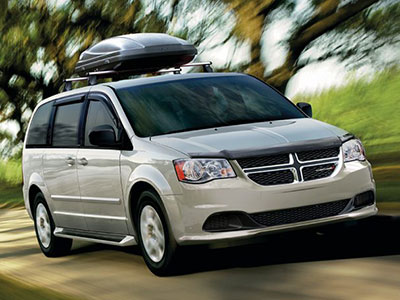 Once again, the 2017 Dodge Grand Caravan is speaking our language. You can equip any model with a DVD entertainment system – a detail that can increase your overall savings and peace of mind. Thanks to the HDMI input, your little ones can happily occupy themselves with video games. There's even a 115-volt, household-style power outlet that keeps every imaginable device – from iPad to Kindle – ready for action.
The Sienna's DVD entertainment system is available starting with the mid-grade SE Premium model, but you can't get it in less expensive models – unlike with the Dodge Caravan. Still, if you do decide to spend the extra cash, you'll come away with the Driver Easy Speak system, which lets you use the rear speakers to communicate with rowdy rear-seat passengers.
Learn More about the Dodge Grand Caravan

Both models are certainly family-friendly, but the 2017 Dodge Grand Caravan goes above and beyond – especially in terms of supportive seating and cargo-expanding innovations. Thanks to the Stow 'n Go seats, transforming your Grand Caravan from a people-hauler to a cargo-hauler – or vice-versa – is literally no sweat. The Grand Caravan can entertain even the most tech-savvy of kids – and for hours on end at that. Up front, you'll enjoy the comfort and support you need to get through your hectic week.