2017 Jeep Grand Cherokee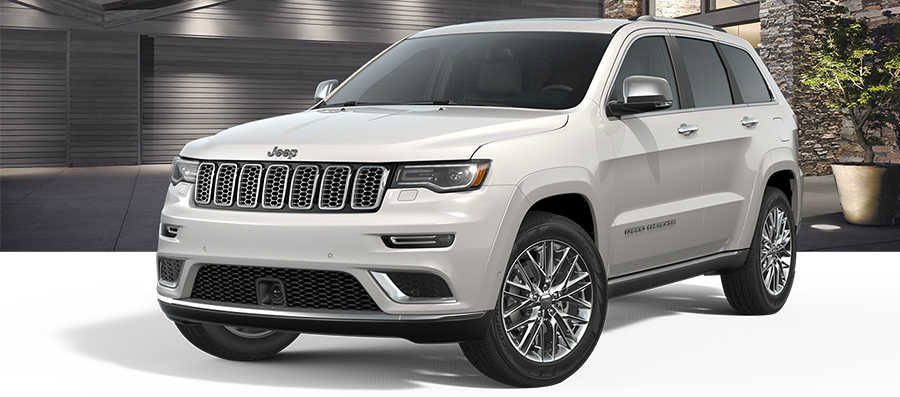 The 2017 Jeep Grand Cherokee is a traditional mid-size SUV that offers rugged off-road performance, high-tech infotainment options, and roomy accommodations. It's the perfect pick for adventurous drivers and big families alike, combining powerful performance with rich interior comfort. The Grand Cherokee also big on safety, treating you to high-tech driver aids and strong crash-test scores. In terms of performance, this SUV delivers the goods – it's strong on and off the pavement.
2017 Jeep Grand Cherokee
The 2017 Grand Cherokee offers a stylish new cabin to go along with its handsomely chiseled exterior. Seating is plush, and both rows provide the room you need to spread out during long road trips. Upscale features, including high-quality leather upholstery, treat you to a truly luxurious ride. You can heat the seats and steering wheel to stay cozy throughout the winter months. Details like interior accent lighting give the cabin a sleek modern glow. There's also plenty of space for cargo. Flip down the rear seats to create 54.9 cubic feet of maximum cargo space and move large items with ease.
It's not just big on sleek style; the 2017 Grand Cherokee is a tech-lover's dream. The Uconnect infotainment system is one of the best on the market. Its touchscreen interface offers crisp, clear graphics and responds quickly to user input. As you navigate busy roadways, you can use the voice controls to access infotainment apps without looking away from traffic. The USB connection won't just charge your devices – you can use it play your music collection over the Grand Cherokee's central system. This SUV also comes with 12 months of satellite radio for seemingly endless entertainment options.
The latest Grand Cherokee puts you and your family first, offering all the latest safety advancements. Four-wheel antilock brakes provide strong stopping power, even on slick roads. The rearview camera increases visibility as you pull out of narrow drives, helping you spot any obstacles in your path. Inside, child seat anchors make it easy to install safety seats for your young kids. The tire pressure monitoring system lets you know if you need to alter psi to improve overall performance.
Under the hood, the Grand Cherokee's inline four-cylinder engine provides the perfect balance of rugged power and wallet-friendly fuel economy. Choose four-wheel drive to help you cruise away from the pavement and out into your favorite off-road territory. The nine-speed automatic works smoothly with the engine, giving you power when you need it. It also gives you the power to shift gears manually for quick access to horsepower as you pass slower vehicles or merge onto the highway.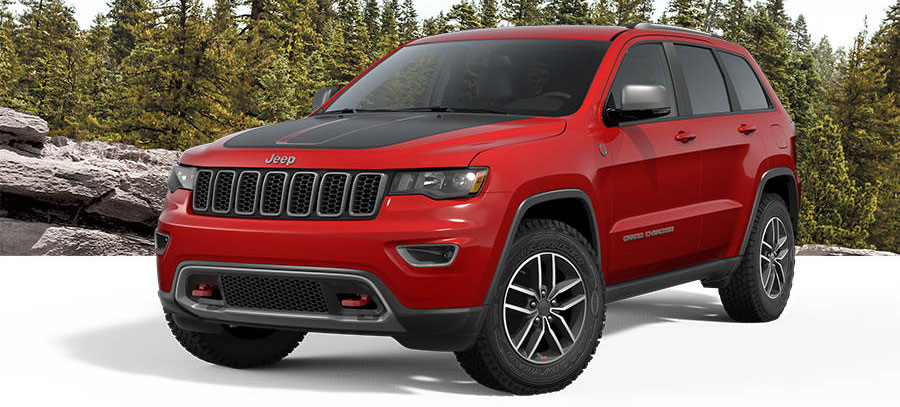 Grand Cherokee Trailhawk
The 2017 Grand Cherokee Trailhawk blazes through rugged territory like never before. New hardware increases the Trailhawk's off-road capabilities, making it the perfect pick for truly adventurous drivers. The Quadra-Drive II four-wheel-drive system gives you the traction you need for superior performance. Off-road, you'll also enjoy the benefits of skid plates and additional ground clearance.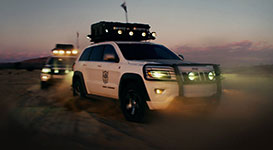 Rugged Off-Road Performance
Hit the trail in earnest – and style.

Chiseled Exterior Style
The Grand Cherokee has never looked better.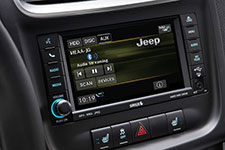 Uconnect
Best-in-class infotainment keeps you connected from anywhere.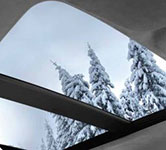 Dual-Panel Moonroof
Enjoy an expansive view of the sky throughout your travels.
Conclusion
If you're in it for the rugged ride and family-friendly cabin, then the 2017 Jeep Grand Cherokee is the absolute right choice. This mid-size SUV impresses with its spacious, comfortable cabin and classy tech features. Should you need it, high-end safety gear is ready for action. The Grand Cherokee is also ready for the off-road, with a range of performance gear to help you traverse rugged terrain in style. Take the Grand Cherokee out for a test drive today!