2017 Jeep Wrangler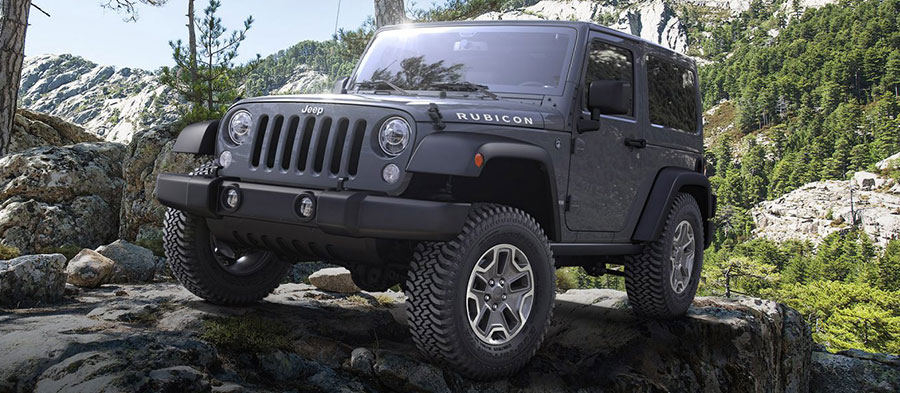 Whether you're planning a rock-climbing foray into the Wild West or simply like to frequent your local mud pit, there's no off-roader that's more capable than the 2017 Jeep Wrangler. Choose between the Sport, Sahara and king-of-the-hill Rubicon models for the performance that meets your uniquely rugged standards. With the Wrangler's rugged hardware at your command, freedom and adventure are always just around the corner.
2017 Jeep Wrangler
The 2017 Jeep Wrangler comes in three trim options: the Rubicon, Sahara, and Sport. All are available as either the two-door traditional model or the four-door Wrangler Unlimited. The Wrangler Unlimited offers more than impressive access to backseat space – it's got room for up to five passengers, making it a great pick for your next trailblazing road trip. With room for four passengers, however, the regular two-door Wrangler suits most drivers and boasts classic iconic style to boot. Choose between the soft and hardtops for the experience you prefer. You can even opt for both tops, switching between soft and hard shells throughout the seasons.
The Wrangler Sport is an excellent start for any adventurous driver. Like its fellow 2017 Jeep Wrangler models, the Sport comes standard with four-wheel drive for a go-anywhere performance. It's also loaded with all the off-road gear you need to hit off-the-beaten-path surfing spots and ice-fishing holes. Off-road tires, for example, handle slippery surfaces with skill. The Sport's fold-down windshield gives you a sense of throwback Jeep style and heightens your sense of freedom as you travel through rugged terrain.
For a bit of an upgrade – especially in terms of modern convenience – check out the 2017 Jeep Wrangler Sahara. It saves you time on the run, thanks to items like keyless entry and power windows and locks. It also adds a splash of exterior style with its automatic LED headlights, which also serve to better illuminate the kind of off-road terrain that has never known streetlamps. For those who dwell in northern climates, the Sahara offers cozy heated seats to ward off winter weather.
No matter which Jeep Wrangler speaks to you, you can count on the ultimate off-road experience. The Wrangler is uniquely suited to rugged terrain – you'll be hard-pressed to find a competitor that even comes close to being able to climb rock walls or sift through snow in a similar fashion. To that end, the Wrangler Rubicon is the most talented of the bunch. Its unique 4.10 gear ratio is exactly what you need to sort out giant boulders on a steep grade.
Under the hood, the Wrangler churns out proficient power to meet your daily needs – and that includes more mundane experiences, like getting up to speed in rush-hour highway traffic. Adventurous drivers will love the Wrangler's six-speed manual transmission, which adds to the novelty of your overall experience. If you're not interested in shifting your own gears, don't worry, Jeep offers a five-speed automatic that is quick to respond.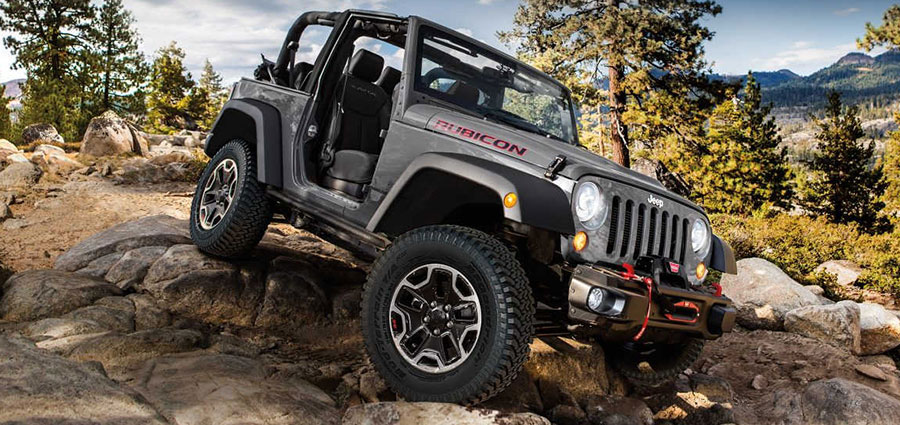 Wrangler Rubicon
The 2017 Jeep Wrangler Rubicon is the specialty off-road model – which is saying a lot, because the iconic Wrangler is already the top choice for rugged performance. In addition to the usual tour-de-force four-wheel drive, the Wrangler Rubicon includes an exclusive 4.10 gear ratio for maximum boulder-hopping performance. If you find yourself in a slippery situation, electronic front and rear locking differentials enhance tire-gripping traction that will pull you through the mud, snow, or sand in a timely fashion.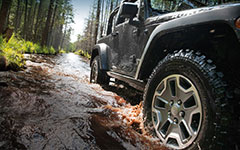 True Four-Wheel-Drive Freedom
Travel with the wind – the Wrangler's go-anywhere style simply can't be beat.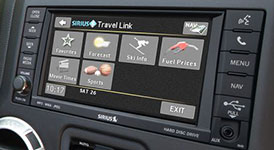 Uconnect
Pair your rugged ride with modern infotainment gear, complete with smartphone integration.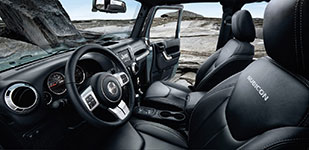 Ergonomic Interior
Wear-friendly fabrics and supportive seats give the Wrangler the edge on the off-road.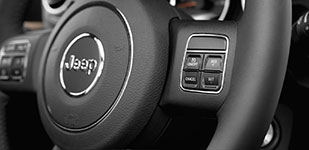 Steering-Wheel-Mounted Controls
Adjust Wrangler features with your eyes on the road on the terrain ahead.
Conclusion
The 2017 Jeep Wrangler is nothing short of an American icon – there's simply nothing else on the road like it and no vehicle that can compete with its incredible off-road performance. Whether you plan to travel through Deep-South red clay, sandy deserts, or substantial snowdrifts, the Wrangler is up to the task. Choose between the soft and hardtops for the experience you prefer, but, either way, you can always take them down to experience the wind in your hair.