2017 Jeep Wrangler vs Toyota 4Runner

If you want a vehicle that looks retro but rides and drives like a brand new vehicle, and something that can compete off-road, you've got an answer in both the 2017 Jeep Wrangler and the Toyota 4Runner. These two are very different vehicles, both competing for the affections of off-road enthusiasts who need their vehicles to also transition to the urban jungle easily. Which one should you choose? Take a look at our comparison guide to get some guidance.
2017 Jeep Wrangler vs Toyota 4Runner
Styling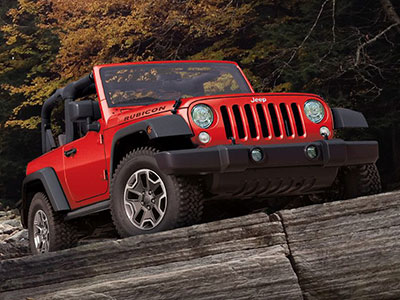 There's retro and then there's retro. The Jeep Wrangler is retro in its classic design, which has stood the test of time so long that there's no need or desire to change it. A Wrangler of today looks pretty much like a Wrangler of 20 years ago, which is a big part of its appeal. The fact it's also one of the few SUVs in the world that can also be as a convertible only adds to the attraction.
The 4Runner is retro because it's an aging design, one that hasn't been truly overhauled in years. Today it looks like a mash-up of a number of different vehicles, which is fine if you like all of those styles combined. But classic styling the 4Runner is not, so this is an easy win for the iconic Wrangler's design.
Performance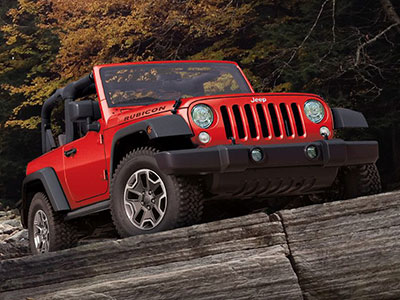 All current Wrangler's use the same engine, which is a thoroughly modern 3.6-liter V-6 that puts out an impressive 285 horsepower and 260 lb.-ft. of torque. It's a unit that's designed to cope with all the different applications the Wrangler is liable to be bought to handle. It's quick enough to cruise on the highway and there's enough low-end torque to cope with serious off-road duties too.
Only one engine is found in the Toyota 4Runner too, but in this case it's a 4.0-liter V-6 developing 270 horsepower and 278 lb.-ft. of torque. Things get a little worse when it comes to the transmission as the Toyota still employs an ancient five-speed automatic. The Toyota is available with two-wheel drive for non-TRD trim levels, but a two-wheel drive 4Runner seems a little pointless. The Wrangler is a more versatile performer than the Toyota.
Fuel Economy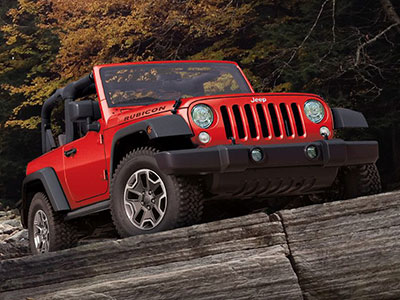 Being a V-6 only model means the Wrangler's fuel economy isn't going to be staggeringly impressive. Regardless of whether you go for a manual or automatic transmission, the best EPA figures the Jeep can deliver are 17 mpg in the city, 21 mpg on the highway and 18 mpg combined.
If you go for a rear-drive 4Runner you can get exactly the same fuel economy numbers as the best the Wrangler has to offer. But if you choose a four-wheel drive model, you're then going to get only 20 mpg on the highway.
Interior Features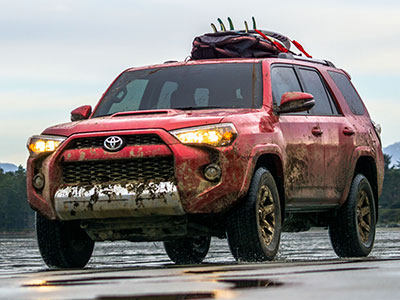 Just because it's built for the off-road doesn't mean that the 2017 Jeep Wrangler doesn't deliver on the promise of a comfortable interior. You'll get impressively comfortable seats, including heated front seats, as well as the options that make driving easier–steering wheel-mounted controls, an 115-volt power outlet, the UConnect system, and the truly impressive washable interior with drain plugs so you can literally hose off the mud and debris of adventure or daily life.
The 4Runner is also bringing the comfort and convenience in the interior of this Toyota, with premium materials and power adjustable front seats. You'll also have the option of a power moonroof, as well as the Entune Premium audio and navigation system. Remote keyless entry is standard, as is the unique power rear liftgate window that can be opened and closed for more ventilation. The interior of the 4Runner feels and looks more like a crossover than the Wrangler, which might appeal to many drivers.
Learn More about the Jeep Wrangler

The 2017 Jeep Wrangler knows exactly what it is and what it needs to do, delivering in every way it should. The Toyota 4Runner looks like a model that would be great as a daily driver for a family but would also cut it off-road for a weekend camping break, but it's actually not very good at the on-road stuff. The Jeep has never claimed to be anything more than it is and it more than lives up to our expectations with style, so it's got to be our winner here.