2017 Ram Promaster City

If you are an owner of a thriving business or you are starting your own soon, you are going to need a car that works for you. The usability and list of best-in-class features make the Ram Promaster City the perfect vehicle for any job. From repair work to delivery service, the Promaster City has everything you need.
2017 Ram Promaster City
The most important part of a work van is the inside. If it can't hold what you need it to, what's the point? The Promaster City has best in class storage space with a massive 131.7 cubic feet available. More space means you can take everything with you that you might need so you won't have to go back to the shop because you don't have something. This Ram cargo van also has best-in-class space between the wheel wells with over four feet of room. That means your plywood will slide right in, and if you need the space for people, there is an option for a second row of seats.
The huge cargo area is easily accessible because of the low loading floor. At 21.5 inches, the new AC unit you're installing, for example, is easier than ever to put in the van. The low loading floor is paired with the Promaster City's best-in-class payload capacity. The 1,883 lb capacity lets you load it up. If you need to get something to the job that is just a little heavier, the Promaster City also has an entire ton of towing power. And, to maximize space, the roof can hold 150 lbs of 2×4's, PVC, or whatever you need.
As you are loading or unloading, you will probably notice that the rear doors open in a 60/40 split giving you access to your gear without blocking curb access. The asymmetrical doors lock open at 90 or 180 degrees so that, while you are loading or unloading, you don't have to worry about the doors closing even if you are parked on a hill. When you open the doors, you'll be able to see that the interior walls are almost vertical so that you can upfit your van while losing as little cargo room as possible.
On top of best-in-in class payload, space between wheel wells, and max cargo space, you can add best-in-class highway mileage to the list. With 28 highway miles per gallon, you can fill up less often and put that money back into the business. Another way that the Promaster City is built to save you money is the 10,000 mile oil change interval. You can also save on maintenance costs with the front wheel drive option. Front wheel drive means less parts going from the engine to the back axel. It means no rear differential. In short, it means less to maintain so that you spend less money.

Promaster City Wagon SLT
The Ram Promaster City's Wagon SLT option gives you more seating. The seating for five, in 9 different seating configurations, allows you to customize the van to best meet your cargo and personnel needs. Even with the extra seating, the Wagon SLT has 101.7 cubic-feet of cargo room. If you need to get more workers to the site, go for the Wagon.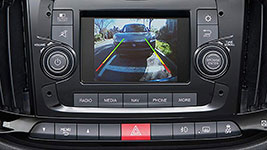 Park View
Back out of any lot with confidence with the Park View camera on your side, giving you the eyes in the back of your head you've always wanted.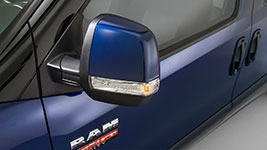 Foldable Side View Mirrors
Tight alleys and delivery spaces are no problem with foldable side mirrors, which give you options without damaging your Promaster City.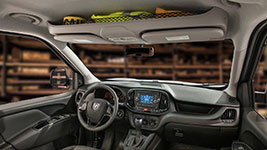 Overhead Storage
Expand your storage ability with a built-in shelf, where you can stash your most frequently used gear.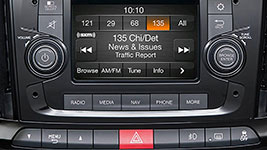 UConnect
An easy-to-use touchscreen gives you control over the GPS, Bluetooth, and other tools to keep you connected while on the go.
Conclusion
If you are going to need to get a work van anyway, you might as well get the one with the most miles per gallon, the most available storage, and the one that can hold the most weight. Luckily for you, all those qualities are combined into the 2017 Ram Promaster City.