2018 Jeep Compass vs Hyundai Santa Fe

Crossover SUVs come in all shapes and sizes these days, and since a crossover doesn't meet a very specific need like, say, a minivan or a pickup truck, crossover SUVs appeal to a wide variety of buyers. Two very different crossovers, the 2018 Jeep Compass and the Hyundai Santa Fe, can attract a similar buyer–so let's see how they match up
2018 Jeep Compass vs Hyundai Santa Fe
Size: Hyundai Santa Fe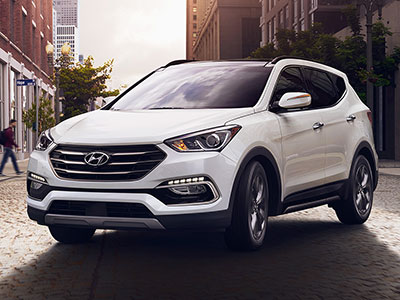 In terms of size, there's really no contest. The 2018 Jeep Compass is a midsize crossover while the Hyundai Santa Fe is a large one, which makes a world of difference when it comes to interior space. You'll find a useful 99.6 cu.-ft. of passenger volume inside the Jeep, but the Hyundai sees that and raises it to a whopping 146.6 cu.-ft. inside.
If you really need a third-row you wouldn't even be considering a Jeep Cherokee, but just because you don't need more than five seats wouldn't mean you'd rule a seven-seater out either. The Hyundai can do a pretty good impression of a cargo van when the seats are down, but it's a pavement dweller, not an off-roader.
Fuel Economy: Jeep Compass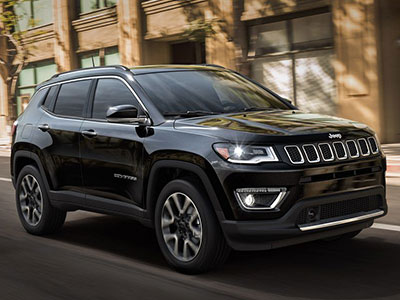 It might be nice to have the extra available space of the Santa Fe, but even if you don't use the third-row or the extra cargo capacity you'll still be paying for it in additional fuel consumption. As the Hyundai is exclusively a V-6, front-drive versions of the Santa Fe use 18 mpg in the city, 25 mpg on the highway and 21 mpg combined. If you go for an all-wheel drive model, those numbers fall to 18/24/20 mpg.
The Jeep isn't exactly a fuel-sipper itself, but front-drive models do get as good as 23 mpg in the city, 32 mpg on the highway and 26 mpg combined. But even if you go with the Jeep's all-wheel drive system it still beats a front-drive Santa Fe with ratings of 22/31/25 mpg.
Driving Enjoyment: Jeep Compass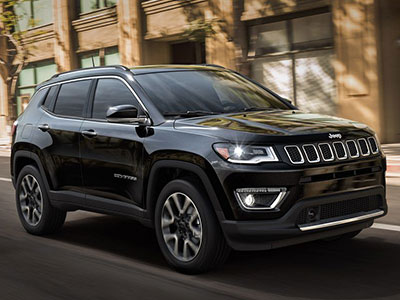 Crossovers are popular because they drive more like a car than an SUV, but that also means a compromise on capability. The Jeep would probably benefit from a bigger, more powerful engine than it currently offers, especially on the road. But when it comes to off-road, the Compass is a lot more fun and considerably more capable than the Santa Fe. Even in its Trailhawk trim the Compass isn't as capable as a Wrangler or even a Cherokee, but it's definitely up to handling far more challenging terrain than a slippery highway or some wet grass.
Wet grass is about the limit for an all-wheel drive Santa Fe, and the more compact proportions and lighter weight of the Jeep also make it more fun to drive on the tarmac. To be fair to the Hyundai, it can tow up to 5,000 pounds, but the Compass is way out in front when it comes to driving enjoyment and fun.
Style Options: Jeep Compass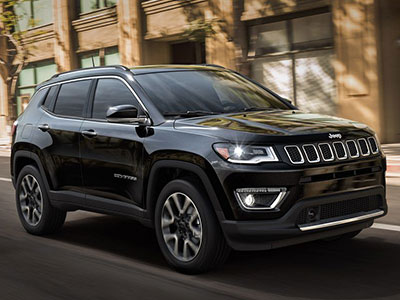 Though it may not be the most important consideration to most buyers, being able to get the vehicle you want the way you want it should be a part of any purchase. The Hyundai offers the safe, but somewhat uninspiring, colors–grays, black, silvers. It's an attractive vehicle, but it won't make anyone's head turn with its unique choices.
The Jeep Compass, however, takes some risks. You'll also get the standard, safe colors, but if you're looking for something a little more fun, you'll get it. Jeep offers vibrant tones such as Laser Blue with the option of a contrasting black roof–on top of its already more stylish body design and youthful appeal.
Learn More about the Jeep Compass

Yes, these are quite different vehicles to each other, but plenty of buyers today have open minds and varied needs. The Hyundai Santa Fe is a good alternative to a mundane and unfashionable minivan, but the 2018 Jeep Compass is a fun, funky, agile, and desirable crossover that's as good to drive as it is to look at.