2018 Jeep Grand Cherokee vs Ford Edge
2018 Jeep Grand Cherokee vs Ford Edge
With their rugged performance features and plush interior comforts, the 2018 Jeep Grand Cherokee and Ford Edge are two mid-size SUVs for the books. But which is right for your daily drive? Our comparison guide will help you select the SUV that works best for you.
Best Blazing Speed: 2018 Jeep Grand Cherokee
The Grand Cherokee is a driver's SUV. That's perhaps most evident in the new high-performance Grand Cherokee Trackhawk trim. Its supercharged V8 engine spits out 707 horsepower to compete with supercars. You can take things down a notch with the Grand Cherokee SRT, whose V8 engine delivers 475 horsepower. It, too, leaves plenty of muscle cars in the dust.
With the optional 5.7-liter V8 engine, you can upgrade your Grand Cherokee's performance at a friendly price. This engine treats you to 360 horsepower and 390 pound-feet of torque, getting you up to speed in high-spirited fashion.
Back on the 2018 Ford Edge, you'll find three engine options. None of them is a rugged V8, but the Edge does offer a turbocharged four-cylinder and a pair of peppy V6s. To maximize speed, go with the Edge Sport, which features an exclusive turbocharged 2.7-liter V6 for 315 horses and 350 pound-feet of torque.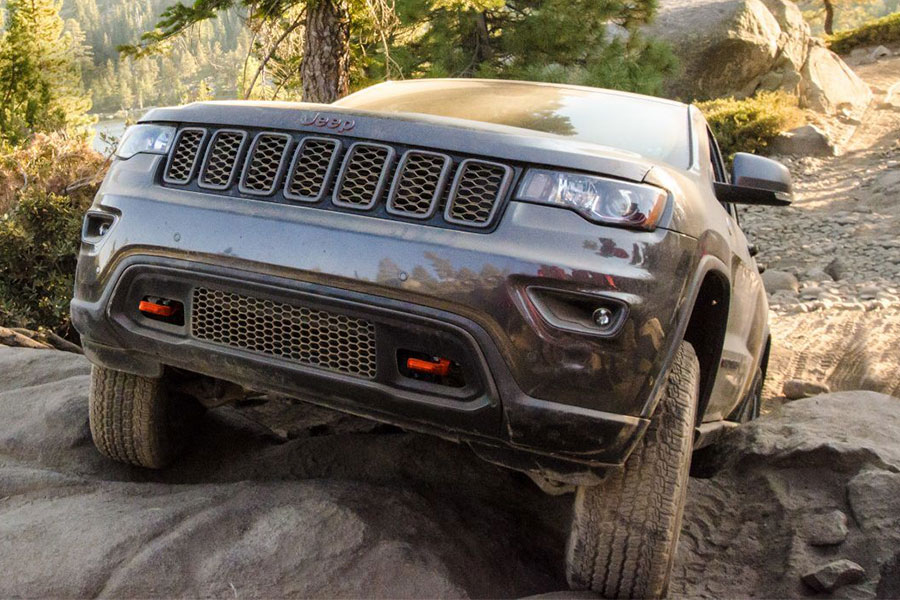 Best Off-Road Performance: 2018 Jeep Grand Cherokee
In addition to supplying premium power, the Grand Cherokee takes you deep into the wilderness. The Laredo, Limited, Overland, and Summit trim models all offer optional four-wheel drive. This performance gear increases precision as you power through sand, snow, and mud. The off-road-ready Trailhawk trim comes standard with four-wheel drive.
Note that on the SRT and Trackhawk models, you'll find special all-wheel drive systems designed for an increasingly sporty performance on the pavement. Stick to the above trim models for the most in rugged performance.
If you're planning to wander farther than the average adventurer, test-drive the 2018 Jeep Grand Cherokee Trailhawk. In addition to its standard four-wheel drive system, you'll find a lot of other performance gear – such as skid plates and an electronic limited-slip rear differential – to help you go where other drivers fear to tread.
The 2018 Ford Edge was designed for a sporty ride on the road. However, it does offer optional all-wheel drive to enhance traction on icy or wet pavement. This performance gear will also help you maintain your footing on light trails. Unfortunately, the Edge was not designed to scale sand dunes or wallow in the mud.
Family-Friendliest Cabin: 2018 Ford Edge
The midsize Edge is a great pick for families on the move. Even with occupants in all five seats, you'll generally find head-, leg-, and elbow room to spare. The cabin features extensive sound insulation as well, furnishing your road trips with a hushed ride. The Edge's suspension soaks up most bumps in the road, adding to its overall comfort levels.
Inside the 2018 Jeep Grand Cherokee, you'll also find world-class sound deadening gear. In addition to this SUV's hushed ride, you'll also enjoy supportive seating and plenty of room to spread out, front and rear. Although we don't have any complaints about the Grand Cherokee's comfy cabin, it falls behind the Edge slightly, at least in terms of refinement.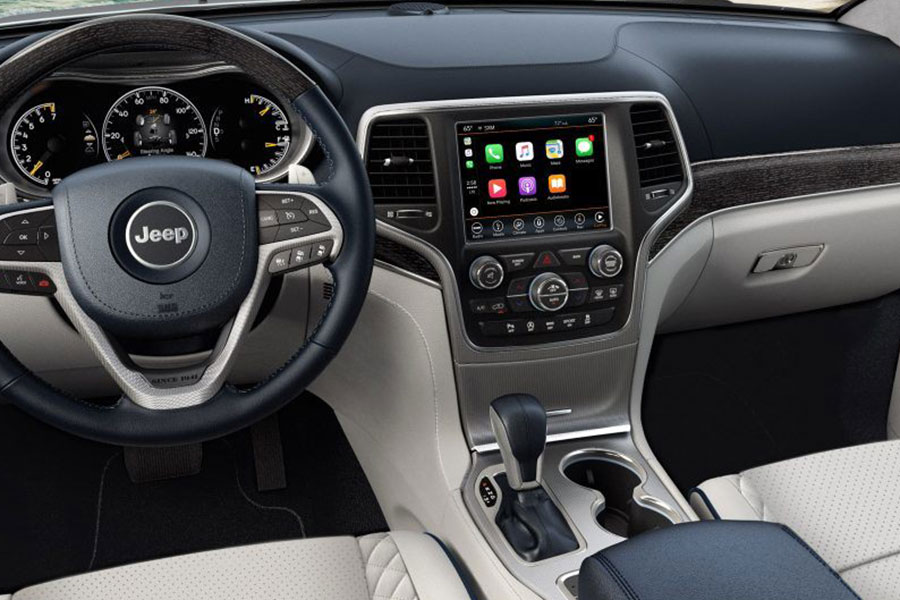 Most Impressive Tech Lineup: 2018 Jeep Grand Cherokee
The Grand Cherokee impresses with its standard convenience lineup. Each of these SUVs features dual-zone climate control, which does a great job maintaining two different temperatures on road trips. The standard rearview camera increases visibility as you ease out of a tiny parking space.
We're also big fans of Jeep's infotainment system, the Uconnect interface. With its 8.4-inch touchscreen and intuitive voice controls, it's easy to handle, so won't add to your frustration level during rush-hour rides. Uconnect also features Apple CarPlay and Android Auto, keeping smartphone addicts connected without distracting them from traffic.
Ford's Sync 3 infotainment system also has its high points, including complete smartphone integration with Apple CarPlay and Android Auto. Its touchscreen is slightly smaller, however, coming in at 8 inches. The Edge doesn't come standard with automatic dual-zone climate control, but you can upgrade to the mid-grade SEL trim to enjoy this equipment.
In the end, the 2018 Jeep Grand Cherokee has our hearts. If you're looking for a speedy SUV, it delivers in a big way. This mid-grade SUV brings the big guns to off-road travel, taking you down your favorite trail like a pro. Inside, the Grand Cherokee delivers roomy comfort and cutting-edge tech features for the whole family. It's hard to go wrong with such an all-encompassing ride.