2018 Ram 2500 vs Chevrolet Silverado 2500
2018 Ram 2500 vs Chevrolet Silverado 2500
The best measurement of a heavy duty truck's value is its raw power, measured in torque, horsepower, and hauling chops. But when one truck is as good as another in engine options, where else should we look? In this comparison guide, we pit the 2018 Ram 2500 and Chevy Silverado 2500 against each other. We'll first look under the hood, and then we'll compare price tags.
Engines: Tie
The experts have weighed in and the 2018 Ram 2500 holds the title for best torque in its class, coming in at 429 lb-ft thanks to a 410-horsepower 6.4-liter Hemi V-8 engine. That same engine offers 17,980 pounds of towing capacity and 3,990 pounds of payload capacity. You can also opt for another engine option that, while not quite as good, also packs a wallop. If you want something with more raw torque than the competitors, the Ram 2500 is having its definitive moment in the sun this year.
The best engine option on a 2018 Chevy Silverado is the 445-horsepower 6.6L V-8. The Silverado 2500 has a comparable 18,100 pounds of towing capacity and 3,534 pounds of payload. Stacked next to the Ram 2500 engine, the Chevy has slightly better horsepower and towing capacity, but inferior payload capacity and torque. Average it all out and the engines of the Ram 2500 and Chevy Silverado 2500 are pretty evenly matched.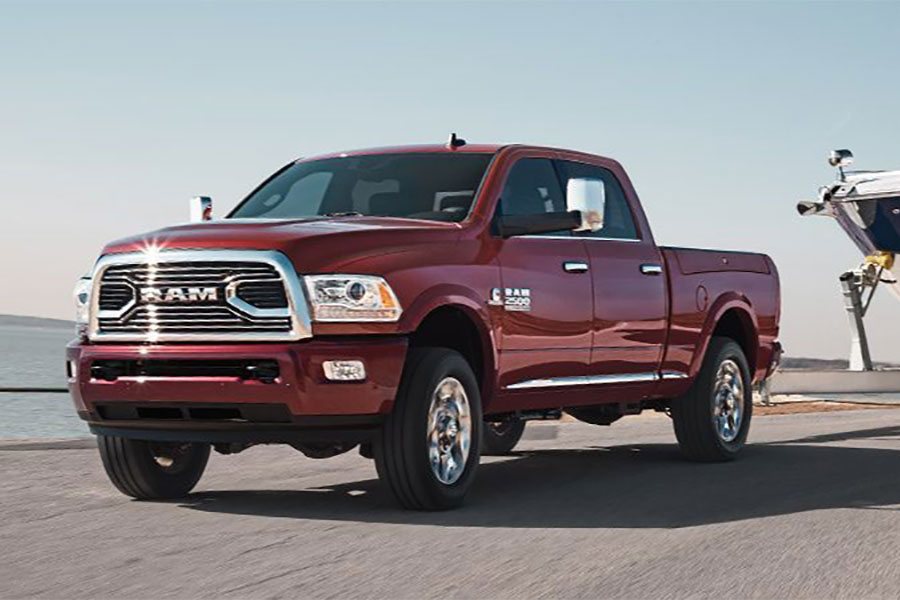 Transmissions: 2018 Ram 2500
The transmission category is special because, honestly, either you have the power and flexibility to do what you want or you don't. The 2018 Ram 2500 offers an optional six-speed manual transmission. However, on the Chevy Silverado, the only transmission option is a six-speed automatic. For those who prefer automatic, the Silverado will do just fine. But if you need or want a manual, only the Ram 2500 will do.
Price: 2018 Ram 2500
Here's the clincher. You can get unbeatable torque and payload capacity, along with comparable towing and horsepower in the Ram 2500 for a starting price just under $34,000. That's $2,000 less than the entry-level Chevy Silverado 2500, which rings up at $36,000. Some drivers might weigh appearance, infotainment, comfort and all the other things that go into a truck. But if you want a powerful engine for less than its Chevy competition, the Ram 2500 is your heavy-duty truck.