2019 All New Ram 1500 vs Ford F-150

At the helm of the all-new 2019 Ram 1500 or the 2018 Ford F-150, you can move serious weight. And, with so many trim models and options to choose from, both of these full-size trucks deliver everything from your basic ride to work to an all-out luxury experience. Which of these pickups is right for your daily haul? Read our comparison guide before you make a final decision.
2019 All New Ram 1500 vs Ford F-150
Most Interior Luxury: 2019 Ram 1500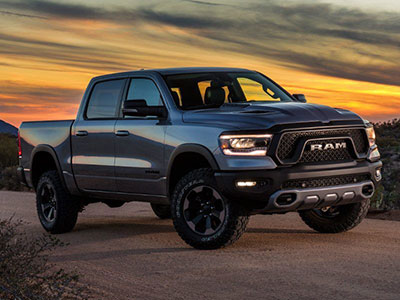 Like the previous generation, the all-new Ram 1500 delivers best-in-class interior luxury. The high-cabin quality materials will impress the pickiest of truck drivers, and they'll make everyone else feel like they're coasting in an expensive luxury SUV. Moreover, both the extended Quad Cab and the Crew Cab deliver impressive passenger space in both rows, so you can haul your crew across town without a complaint.
Like the Ram 1500, the 2018 Ford F-150 offers a wealth of high-end options, including various shades of leather upholstery and wood and aluminum trim. You can create a seriously stylish F-150 cabin, but the Ford never feels quite as refined as the new Ram 1500. If you absolutely must have the regular cabin, which features one bench seat for up to three passengers, choose the F-150. The all-new Ram 1500 doesn't offer this body style.
Savviest Tech Innovations: 2019 Ram 1500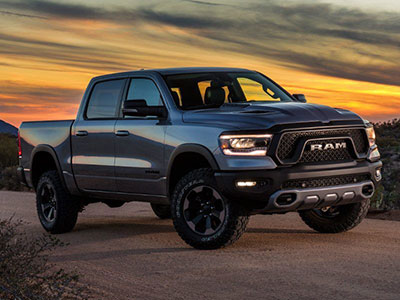 When you've got to have all the latest developments in tech, you've got to have the brand new Ram 1500. This full-size truck offers a 12-inch infotainment touchscreen, bigger than you'll find in any competing trucks. The Ram also comes standard with the Uconnect interface, one of the best systems on the market, a title Ram owes to its intuitive menus and responsive touchscreen. Uconnect includes Apple CarPlay and Android Auto capabilities, displaying oft-used smartphone apps on your central touchscreen for safe connectivity.
The F-150 also offers an impressive infotainment system, known as Sync 3. It, too, includes complete smartphone integration with Apple CarPlay and Android Auto connectivity. However, to get this system, you must upgrade to the mid-grade F-150 XLT and add the Luxury 302 package, and you may end up spending more than you wish.
Strongest Towing and Hauling Capabilities: 2018 Ford F-150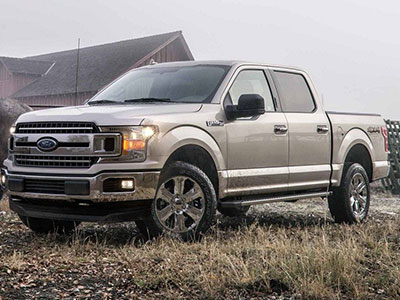 With best-in-class towing and hauling capabilities, the full-size F-150 is tough to beat. Depending on powertrain and body style configuration, this rugged truck can tow max loads of 12,700 pounds. The F-150 is the right choice if you've got a massive family camper or four-horse trailer at home. The F-150 also impresses with its hauling capabilities, moving up to 3,270 pounds with ease.
This year, the all-new 2019 Ram 1500 is approximately 225 pounds lighter. That means that, although the Ram's powertrains deliver the same output as last year, the new Ram is ultimately more capable. The 1500 follows just behind the F-150, towing up to 11,290 pounds. You can load up the truck bed with 1,670 pounds. When it comes down to it, the Ram 1500 is more than capable of towing a hefty boat or hauling a bed stocked with camping gear.
Best-in-Class On-Road Refinement: 2019 Ram 1500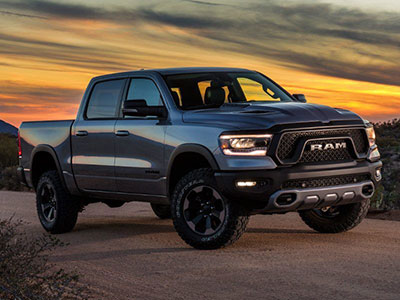 The 2019 Ram 1500 returns to roadways with a unique coil-spring rear suspension, designed to smooth out the ride without sacrificing the truck's rugged capabilities. When you add the optional air suspension, you'll feel like you're floating around in a luxury crossover. This truck is highly maneuverable, making it the right choice for drivers who travel through cramped city streets or narrow country paths on a regular basis.
The F-150 doesn't optimize on-road refinement. But, when you upgrade to the turbocharged 3.5-liter V6 engine, you can expect quick, responsive acceleration. The Ford's new aluminum side panels add to the F-150's maneuverability, so you'll feel confident in a tight spot.
Learn More about the Ram 1500

Although the F-150 tows max loads, the all-new 2019 Ram 1500 has officially won us over. With a refined cabin and silky smooth ride, you'll feel like you're riding to work in a luxury SUV. The Ram's handling is almost sedan-like, so you can get in and out of a small space without a scratch. The Ram 1500 is also more than capable of towing and hauling heavy loads, so you can get the job done in style.