2019 Chrysler 300
2019 Chrysler 300
While not exactly a lowrider, the 2019 Chrysler 300 crouches athletically low, with just 5 inches of ground clearance. The result is a rear-wheel-drive full-size luxury sedan that casts almost no shadow. The long hood, boxy frame, and snub nose isn't for everyone–we understand that. But if you like your cars big, with big power too, and exterior lines that cut like a knife, the Chrysler 300 might just be your next car. Chrysler made no major changes for the 2019 model year, so let's define what makes the Chrysler 300 great, no matter the year.
Reinvented, Reinvigorated
When the Chrysler 300 debuted in 2005, this luxury car came as a station wagon or full-size sedan. Times have changed and station wagons are mostly gone. But the Chrysler 300 has reinvented itself as a luxury sedan that measures almost 200 inches long. The 300 has really come into its own as one of the last full-size sedans with this much lean muscle. The 300 looks like a modern take on a classic car.
The Chrysler 300 comes standard with a 3.6-liter V6 engine that delivers 292 horsepower, or slightly more in the 300S trim. That's plenty to move this car, but if you want to see what the Chrysler 300 can really do, we strongly recommend the 5.7-liter Hemi V8 engine that produces 363 horsepower. Getting the Hemi will make your commute feel like a joy ride. The V8 makes handling a dream and ensures you'll have some of the best acceleration. What other full-size sedan can go zero to 60 in just 5.3 seconds?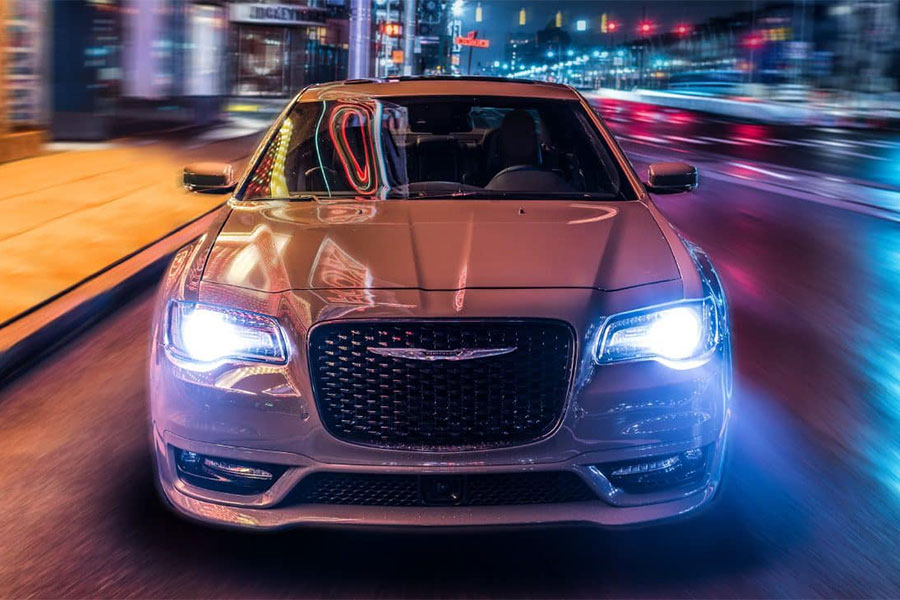 Big Exterior, Big Interior
What does a 16-and-a-half-foot car offer? Plenty of passenger and cargo space. There's head and leg room in the 300 that's comparable to other full-size sedans and the Chrysler 300 boasts a class-leading 40.1 inches of backseat leg room. No more fighting over shotgun, because who wouldn't want to slide into the backseat with that much room available? The comfortable seating and spacious leg room in the back is just an inch less than what you get in the front. What else do you get in the back seat? How about class-leading second-row storage–which means everyone wins, regardless of where they sit.
Speaking of storage, let's look at trunk space. Critics rightfully say that the Chrysler 300 is a little lacking in storage space compared to most other full-size sedans. That was one of the tradeoffs Chrysler made in order to make the back seat so roomy. But at 16 cubic feet, the trunk of the 300 isn't really that small. That's the exact same size as the trunk of the Kia Cadenza or Toyota Avalon, two other best-selling full-size cars. So unless you need a trunk of mammoth proportions, the one in the Chrysler 300 will do just fine.
There's a lot more we could say about the Chrysler 300, but a big exterior, spacious interior, and a truly powerful engine are its standout features. And those features make the 2019 Chrysler 300 definitely a sedan worth serious consideration.