2019 Dodge Durango
2019 Dodge Durango
With its rugged capabilities and strong towing performance, the 2019 Dodge Durango is the right three-row crossover SUV for your next adventure.
What's new for the 2019 Dodge Durango?
You'll find a few new high-end features available for this capable crossover SUV. For starters, drivers can now choose to add a 19-speaker Harmon Kardon sound system, an option that can't help but please even the pickiest audiophile.
When you add the Trailer Tow package to your Durango, it now includes an integrated trailer brake. This performance technology increases precision and safety when you're hauling heavy loads.
Why choose the 2019 Dodge Durango?
These days, there aren't many crossovers like the Durango. Instead of going the way of car-based commuters, this three-row crossover SUV is sticking to its rugged guns. The Durango is built for adventurous drivers, delivering exceptional towing capabilities and rugged four-wheel drive with low-range gearing. Unlike many crossover rivals, the Durango is equally capable of towing your family camper and exploring off-road territory.
Naturally, this rugged crossover delivers adult-friendly space in all three rows, making it a prime pick for big families who can't log enough travel miles. As you climb the Durango trim models, you'll find increasing luxury. Features like heated seats and leather upholstery are a nice compliment to your daily drive.
These full-size crossover SUVs also specialize in technology. Dodge's Uconnect infotainment system is one of the best in the business, featuring a crisp, responsive touchscreen and handy voice controls. Uconnect also offers Apple CarPlay and Android Auto capabilities. This technology displays smartphone apps on your central touchscreen, so you won't feel tempted to look down at your phone while you're driving.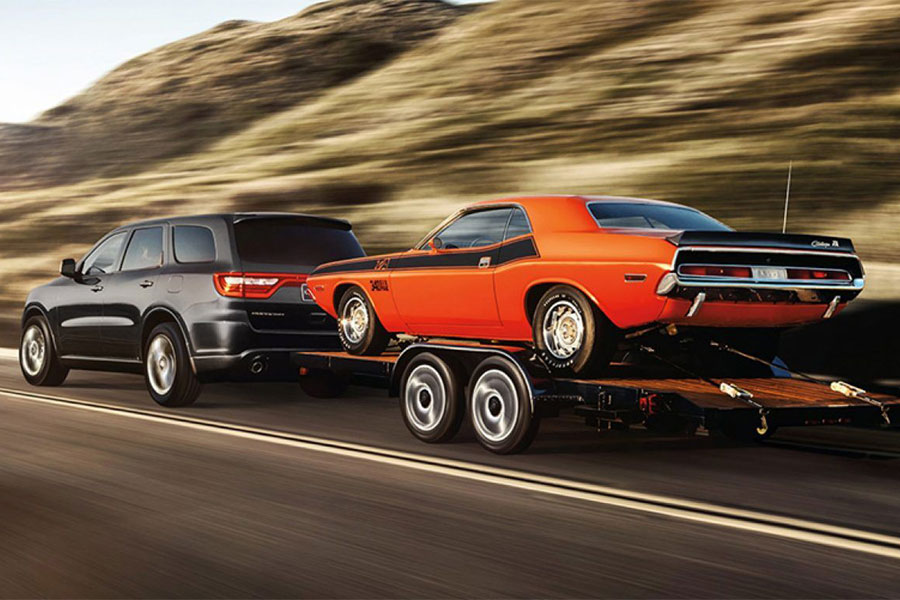 Does the 2019 Dodge Durango offer all-wheel drive or four-wheel drive?
Technically, the Dodge Durango offers both. This performance technology assists you as you travel through rugged territory, enhancing traction on softer, off-road surfaces. You can add all-wheel drive to every Durango model except the high-performance Durango SRT, which comes standard with all-wheel drive.
A rugged four-wheel drive system with low-range gearing is also available. Add this technology to your Durango for greater precision as you travel through especially difficult off-road territory.
How much can the 2019 Dodge Durango tow?
In the three-row crossover SUV segment, the Durango delivers best-in-class figures. With one of Dodge's V8 engines and the towing package, this rugged crossover tows up to 7,400 pounds. If you've got a family camper or a huge boat that needs moving, the Durango is ready to go.