2019 Dodge Grand Caravan
2019 Dodge Grand Caravan
The 2019 Dodge Grand Caravan continues to be a no-frills, no-nonsense family minivan. The Grand Caravan's main selling point is its great value. The minivan starts at just $26,250 while most other minivans are hundreds if not thousands of dollars more expensive. In this preview guide, we'll review what else makes the Dodge Grand Caravan a good buy for you and your family.
What's New for 2019?
Not much has changed this model year. The 2019 Dodge Grand Caravan offers auto-dimming rearview camera standard for the first time. After a brief pause in production, the Grand Caravan comes back with improved side airbags. Otherwise, we're looking at the same value drivers of the Grand Caravan have come to expect from this minivan.
Dependable
In addition to being affordable at purchase, the 2019 Dodge Grand Caravan continues to be easy to maintain, saving you money year after year. JD Power and Associates gives the 2019 Dodge Grand Caravan a score of 3.5 out of 5 in reliability. That means that the Grand Caravan lasts before needing major repairs longer than the average car, putting this Dodge on par with other, more expensive, minivans.
But that's not all. This year, JD Power and Associates awarded the Dodge Grand Caravan the Power Quality Award Winner. Second to no one, the Dodge scored higher than the Kia Sedona, Chrysler Pacifica, and Honda Odyssey in overall quality. One of the reasons some people knock the Grand Caravan is that it's a no-frills minivan. But the upshot to that is that this Dodge is reliable, more reliable than its competitors.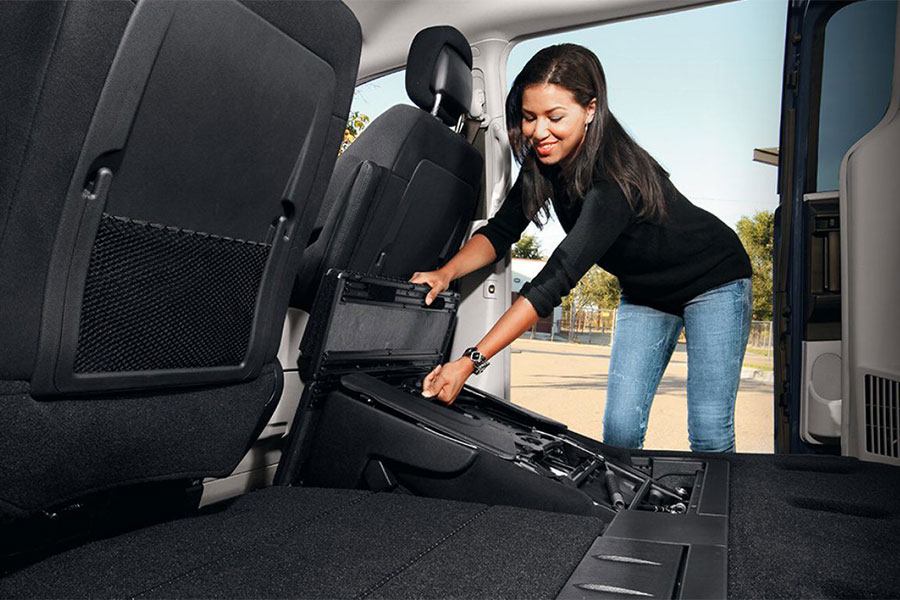 Trim Options
The 2019 Dodge Grand Caravan comes in three trim levels: the SE, SE Plus, and SXT. The upper-tier GT trim level has been discontinued. Among our options, we recommend the SE Plus, which starts at $28,700 and comes standard with cloth upholstery, second-row bench seating, tri-zone manual climate control, 6.5-inch touch-screen infotainment system, six-speaker audio system, rearview camera, satellite radio, and voice recognition system. There's also second- and third-row Stow 'n Go seats, which is a feature you'll love. With this innovative system, you can fold the seats down so they are level with the floor.
If you're in the mood for something more luxurious, there's the Grand Caravan SXT, which starts at $31,400 and comes standard with leather upholstery, eight-way power-adjustable driver's seat, remote start, power-sliding rear doors, and power liftgate. With the Driver Convenience Group for an extra $995, you can get tri-zone automatic climate control, heated steering wheel, second- and third-row sunshades, and heated front seats.
Space in Spades
Another great reason to buy the Dodge Grand Caravan is all that interior room. The Caravan's cabin is a truly cavernous space with seating for seven and plenty of storage space besides. We're talking 31 cubic feet behind the third row, 79 cubes behind the second row, and a whopping 140 with everything folded down. And with the smart Stow 'n Go seating, it really does feel like usable space and not a serious of hurdles.