2019 Jeep Grand Cherokee
2019 Jeep Grand Cherokee
If there's one thing we know about Jeep vehicles, it's their off-roading capability. But there's a lot more to them than that. In addition to the off-roading chops and powerful engines, the 2019 Jeep Grand Cherokee offers a potent infotainment system, luxurious interior, great towing, and plenty of options. We're convince that if you're in the market for a two-row mid-size SUV, there's a Grand Cherokee just right for you. In this preview guide, we'll hit the highlights of what's new for 2019 and then we'll talk about what you'll love about the Grand Cherokee.
What's New for 2019?
The bestselling fourth generation of Grand Cherokee rolled into dealerships for the first time in 2011. Grand Cherokee sales have increased every year since. This model year, Jeep is expanding safety features, adding new color options, growing the size of the infotainment touch screen, and adding a new trim level. Now you can find safety features blind-spot monitoring and rear cross-traffic alert will make you safer on any trim level of Grand Cherokee. Exterior colors now include Slate Blue, Green Metallic, and Sting Gray. The infotainment system comes with an optional bigger screen this year, now at 8.4 inches, and Navigation. Finally, the Limited X trim makes its debut in 2019.
The Limited X boasts distinct front and rear bumpers, a performance hood, Black interior with Heritage perforated seats, 9-speaker Alpine audio system, and unique 20-inch wheels. This trim level sits between the Grand Cherokees Limited and Trailhawk in price.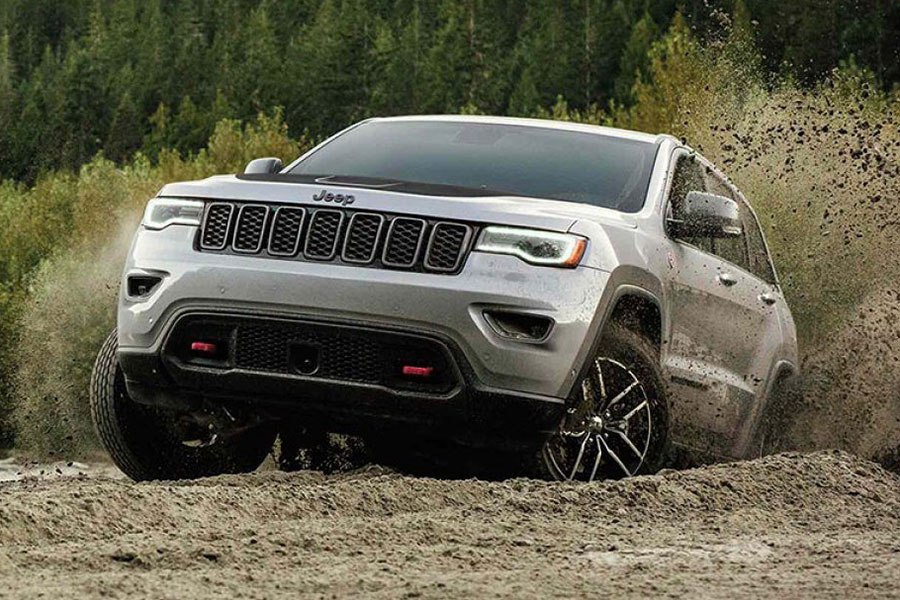 Off-Roading, Because We Can
Yeah, there's a lot more to the Jeep Grand Cherokee than off-roading, but that doesn't mean we're not going to talk about its off-roading. Most mid-size SUVs have forgotten their athletic roots. But the Grand Cherokee has embraced a luxurious cabin and great tech while still slinging mud on the off-beaten trail. In addition to powerful engines-everything from the base 295-horsepower 3.6-liter V6 to the supercharged 707-horsepower 6.2-liter V8 on the Trailhawk-that get the job done, the Grand Cherokee offers off-roading features like locking rear differential, multiple four-wheel-drive systems, upgraded anti-lock and Brembo performance brakes, and an adaptive air suspension. The result is an off-roader's daydream. That's still a very strong selling point for the 2019 Grand Cherokee.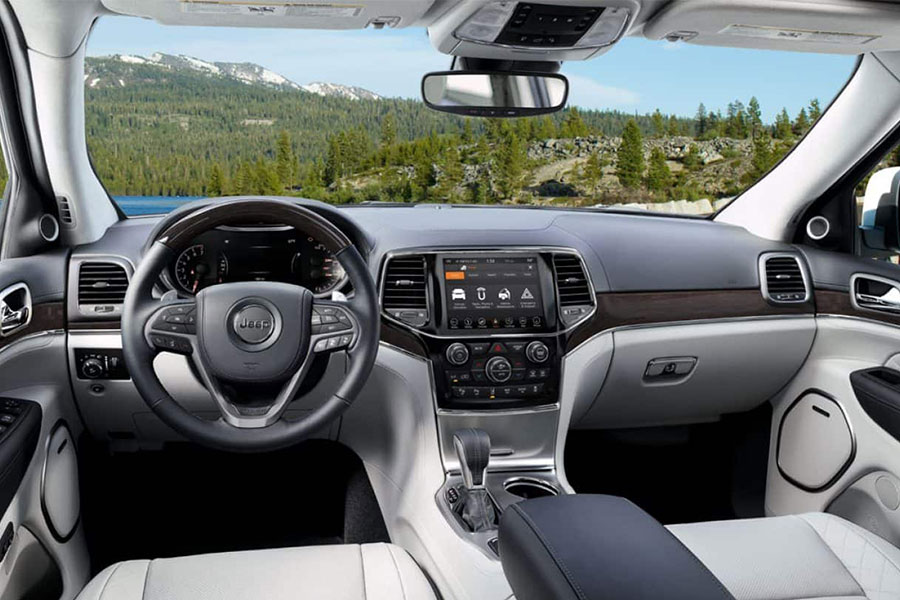 Amazing Interior, Because We Want
The other reason for choosing the Jeep Grand Cherokee is this unbeatable interior. The first thing you'll notice is how attractive the cabin is. Well-padded, supportive seating comes in cloth, leather, Nappa leather and suede. You can get power-adjustable front seats, ventilated front seats, heated front and rear seats, and a heated steering wheel. The cabin is thoughtfully designed and filled with quality materials from soft leather to impeccable stitching to soft plastics. The infotainment system is smart and easy-to-use.
The second thing you'll notice is how quiet the cabin is. How is it this quiet?! We're not sure, but the serenity is welcome in an otherwise sporty vehicle. Like chocolate with peanut butter, the Jeep Grand Cherokee marries sporty off-roading with amazing comfort.