2019 Ram 2500 vs Ford F-250
2019 Ram 2500 vs Ford F-250

Inventory
Muscle-bound heavy-duty trucks like the 2019 Ram 2500 and Ford F-250 have become increasingly powerful and more luxurious in recent years. With so many configurations and features available, choosing the right heavy-duty truck can feel like an impossible task. But our comparison guide is here to help. Check it out before you start shopping for your brand new heavy-duty pickup.
Most Capable: 2019 Ram 2500
When you're shopping for a heavy-duty truck, you can't help but have towing and hauling on your mind. To make the most of your two-ton purchase, choose the Ram 2500. Properly equipped, it's got the chops to tow up to 17,580 pounds and haul up to 4,050 pounds. The F-250 can tow almost as much, moving up to 17,500 pounds' worth of heavy-duty trailer. But the Ram has a significant edge in the hauling department; the F-250 hauls up to 3,540 pounds.

Plushest Heavy-Duty Hauler: 2019 Ram 2500
This heavy-duty Ram truck does more than deliver the segment's top towing and hauling figures. Inside, you'll find a clean-cut cabin with modern style and handsome materials. Outside, the Ram's five-link rear suspension (or the even more sublime optional rear air suspension) creates best-in-class ride comfort.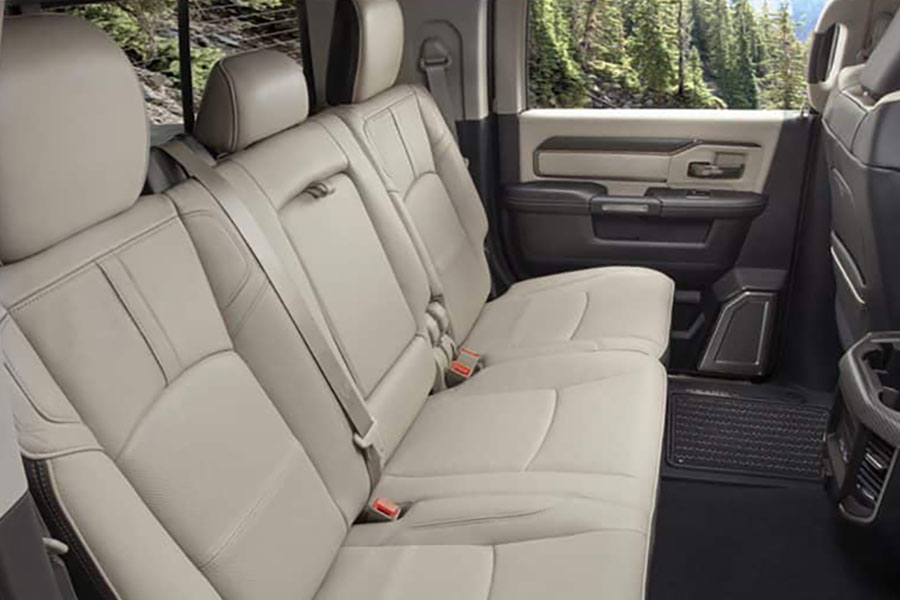 While the F-250 also gives you a range of trim models with all the luxury trimmings (leather upholstery, heated seats, high-tech safety gear), this Ford truck doesn't quite have the same fit and finish. And it really can't match Ram's rear-suspension-induced ride comfort.
Special Features: 2019 Ram 2500
The Ram 2500 has some awesome features that you won't find anywhere else. First, the optional Mega Cab is even bigger than a crew cabin, and your favorite passengers will thank you for the extra rear-seat space. Ram's special Light Up the Night package is perfect for night owls, helping you get the job done with full-LED headlamps and a forward lighting system that pivots inboard and outboard as you turn the steering wheel.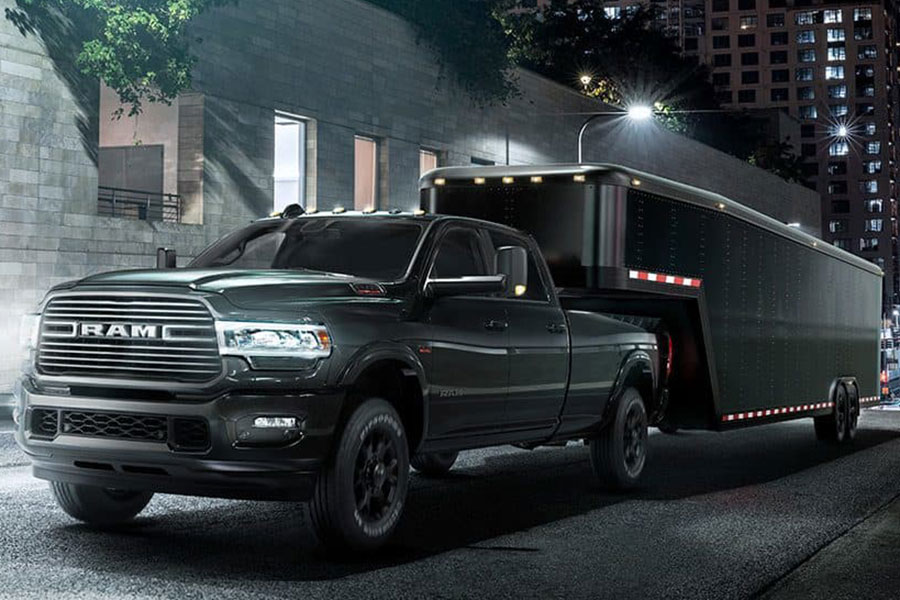 The F-250 has a few tricks up its sleeve, too, but most have their Ram counterparts. Once such feature is the blind-spot warning system, which can take the length of a trailer into account, so you have all the info you need to make safe lane changes. We also like these trucks' surround-view cameras, which really come in handy when you're trying to maneuver around a crowded parking lot or a haphazard construction site.
Best Off-Roader: 2019 Ram 2500
Ram's Power Wagon was designed for off-road use, and its sporty performance really impresses in rugged terrain. This heavy-duty truck does more than move massive trailers – its disconnecting sway bar and locking front and rear differentials help you maximize precision as you conquer complicated off-road trails.
We have to admit that the Ford F-250 puts in a pretty good showing on the trail, especially when you add four-wheel drive. However, unlike Ram, Ford doesn't offer an off-road-ready version of this heavy-duty truck.
The 2019 Ford F-250 is undeniably rugged and modern, but the 2019 Ram 2500 surpasses it in every way. To move best-in-class loads and enjoy best-in-class ride comfort at the same time, the choice is a clear one.