2019 Ram 3500
2019 Ram 3500
Engineered for greatness, the newly redesigned 2019 Ram 3500 is ready to transport next-level workloads.
Revised Powertrain Lineup for 2019
The 2019 Ram 3500 has pushed the envelope all the way into best-in-class towing and hauling territory. Part of this evolution has to do with its sturdy new engine lineup. The new base engine is the 6.4-liter HEMI V8, a new legend in its own right, delivering 410 horsepower and 429 pound-feet of torque. Like a good HEMI should, this powertrain kicks up dust with impressive low-end torque. Its new eight-speed automatic transmission is the cherry on top, giving you smooth, quick shifts all the way up the rev range. Use this HEMI to haul best-in-class gas-powered payloads.
You'll recognize the 6.7-liter Cummins turbodiesel six-cylinder engine from previous Rams. But this familiar option has something new in store for 2019: an incredible output of 400 horses and 1,000 pound-feet of torque. Use this engine to tow best-in-class loads.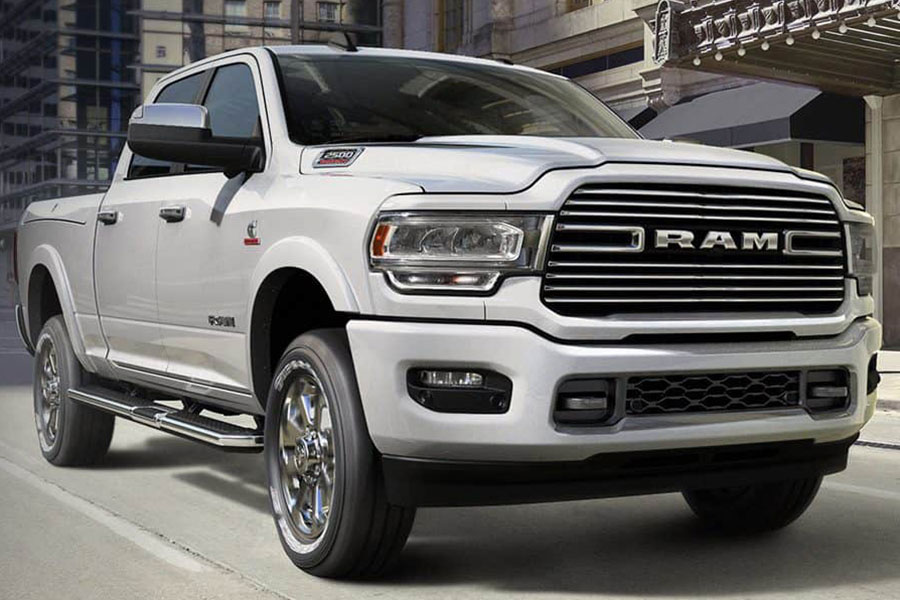 Stronger, Quieter Ride
This heavy-duty truck is bringing its A-game. Its new frame features more high-strength steel than before, underscoring its awesome capabilities. New aluminum body parts make this truck lighter than ever, so it's both more maneuverable and increasingly capable.
And, with new engine mounts and suspension bushings, cabin vibrations are at an all-time low. The ride is now even quieter, thanks to Ram's brand new noise cancellation technology. As you cruise around, you'll feel less like you're rolling in a heavy-duty truck and more like you've opted for a luxury SUV.
Updated Appearance
When your brand new 2019 Ram 3500 rolls up, the first thing everyone will notice is its redesigned exterior. That means a fresher, more modern take on the Ram's rugged grille. The update also means new headlights and taillights. Inside, you'll find a cabin design fit for a king.
Which of the 2019 Ram 3500 trim levels should I choose?
The newly redesigned Ram 3500 comes in five flavors: Tradesman, Big Horn, Laramie, Longhorn, and Limited. Each offers increasing levels of comfort and convenience, ranging from work-truck basics to best-in-class luxury.
When you want all of the capability but don't care to pay for any extras, the Tradesman gives you a great deal. And, though its price is stripped down, this heavy-duty truck never lacks for convenience. Its vinyl seats and floor mats make fighting off worksite dust easy. The keyless entry and ignition features give you the means to simply hop in and drive away.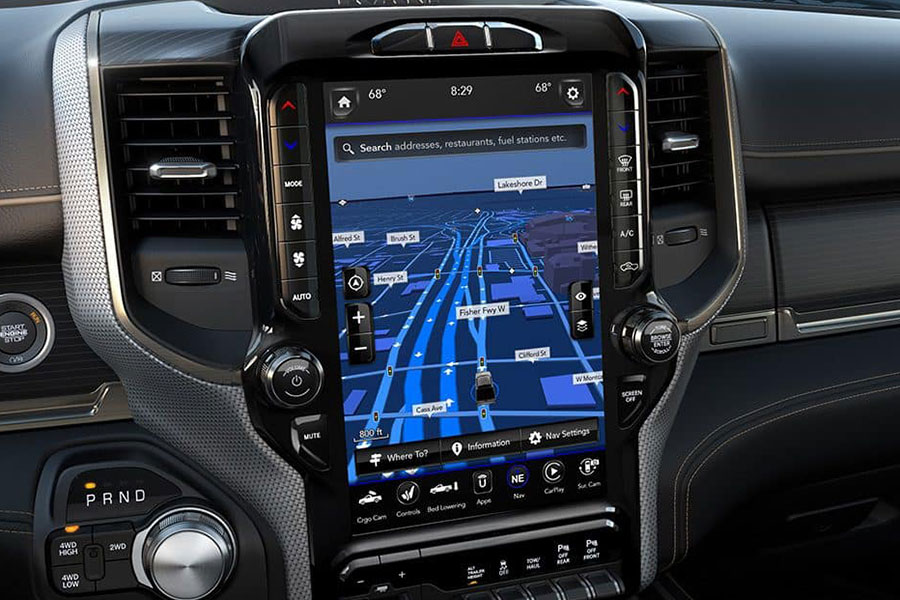 With the Big Horn and up, you can configure your heavy-duty truck with a long list of options. You can upgrade your Uconnect infotainment system with an 8.4-inch or gigantic 12-inch touchscreen for greater ease of use. You can upgrade comfort levels with heated front seats. You can even add exclusive safety features, including a forward collision mitigation system with the power to automatically bring you to a stop, even with a trailer attached.
At the top of the hierarchy, you'll find the luxurious Longhorn and Limited. They're the only heavy-duty trucks to supply 100 percent leather seating, giving you the kind of refinement you won't find anywhere else. They also give you a lot of options, so you can choose the cabin colors and wood trim to suit your individual style.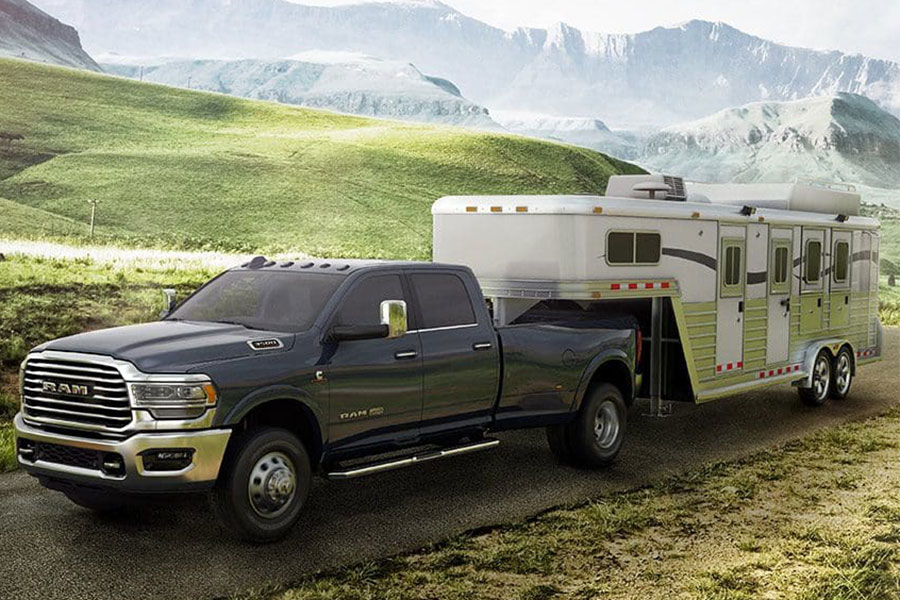 How much can the 2019 Ram 3500 tow?
To tow max loads, choose the turbodiesel 6.7-liter six-cylinder engine. Its incredible 400 horsepower and 1,000 pound-feet of torque helps this heavy-duty truck tow best-in-class figures of up to 35,100 pounds. If you prefer to hang onto the standard HEMI V8, you'll still be able to move serious weight. With the proper equipment, you can tow up to 18,210 pounds in your gas-powered Ram 3500.
What's the 2019 Ram 3500 max payload?
Choose the standard gas-powered V8 engine to haul max payloads. Depending on body style and equipment, a Ram 3500 with this engine can haul up to 7,680 pounds. That's some serious pay dirt. In fact, it's the biggest gas-powered payload in the segment. If you've got heavy loads to haul, but you also need the diesel engine for towing, you'll be pleased to learn that it's almost equally capable. Properly equipped, a diesel-powered Ram 3500 can haul up to 6,910 pounds.