Used Dodge Grand Caravan

The used Dodge Grand Caravan is a family-friendly minivan that delivers premium security, a fuel-efficient ride, and three spacious rows of seating. Inside, the Grand Caravan offers impressive utility and versatility, making it equally easy to transport to take the whole family out on the town or transport sizeable cargo. Modern tech gear, including navigation and central infotainment, helps you stay on the right track. As you cruise the highway, you'll appreciate the Grand Caravan's easy maneuverability. Come in to test drive a Grand Caravan today!
Used Dodge Grand Caravan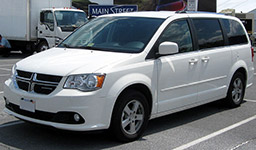 If you're shopping for a used Dodge Grand Caravan, you'll find that these models speak to modern drivers. Inside, up to seven passengers can spread out with elbowroom to spare. From the driver seat, you'll enjoy a commanding view of the road. No matter which trim model you test-drive, you'll find it stocked with comfort and convenience features. Dual-zone climate control provides cooling power for the whole family. The Stow 'n Go second-row seats fold comfortably into the floor to maximize cargo space in a snap. The handy navigation system provides turn-by-turn directions to get you to your designation in plenty of time.
All Grand Caravans derive their power from a 3.6-liter V6 that creates 283 horsepower for a strong performance. The smooth-shifting, six-speed automatic transmission sends power to the front wheels. Like its predecessors, the fifth-generation used Grand Caravan is easy to maneuver, thanks in part to its responsive performance and sharp steering.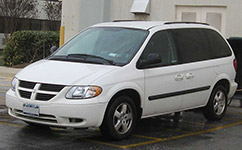 The fourth-generation Dodge Grand Caravan offered increased power and performance. Fuel-minded drivers loved the 3.3-liter V6 engine, which combined money saving performance with 180 horsepower. For additional speed, the 215-horsepower 3.8-liter V6 was also available. These used Grand Caravan models were also big on ingenuity. The Stow 'n Go second-row seats folded into the floor to increase cargo space in seconds. Tech features, including keyless entry, saved plenty of time in the long run. The rear-seat DVD system was a great option for families on the go.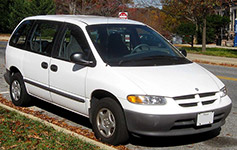 During the third generation, Dodge rolled out dual sliding doors – a first in this segment. The Grand Caravan continued its long tradition of carlike performance, making it easy to travel through any environment. Inside, the Grand Caravan was as spacious as ever, with three comfortable rows of seating for the whole family.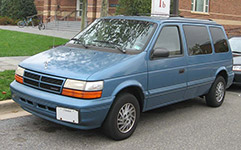 Here shoppers could choose from four trim models – base, SE, LE, and ES. Options didn't end there: the Grand Caravan could be had with one of three engines. The most powerful was a 3.3-liter V6 that generated 162 horsepower. During these years, the Grand Caravan offered all-wheel drive to increase traction and overall performance.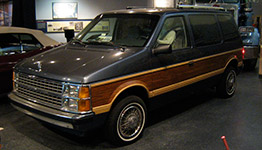 The original Dodge Caravan was the first minivan. It essentially revolutionized the family-friendly vehicle market with its three rows of seating and impressive maneuverability.