2016 Jeep Grand Cherokee Test Drive
2016 Jeep Grand Cherokee Test Drive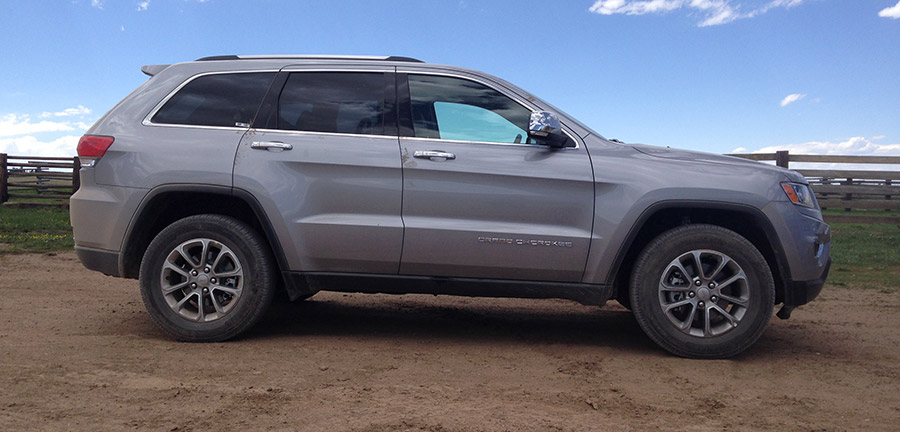 I recently had the opportunity to rent the 2016 Jeep Grand Cherokee Limited for a business trip I took to Wyoming. By "opportunity", what I really mean is "I requested a Toyota 4 Runner and they stuck me with a Jeep". Now, I have nothing against jeeps. I had three Jeep Cherokee's in my youth. In fact, I loved them so much that I kept the one that I wrecked so that I could continue to use it for parts. I wanted to keep my other one alive well into the apocalypse so it could fit right in with the zombies- the [driving] dead. However, when I married my husband, I sold my jeep and we drove his Toyota Land Cruiser. After that, I joined #teamtoyota and haven't looked back (where's the loyalty?). Anyways, I requested the 4 Runner and was a little disappointed that my "like vehicle" was a Grand Cherokee. But, whatever, it was midnight and I had a LONG drive to the hotel (Wyoming, remember?). I never expected my rental car to rekindle the Jeep flame that was buried deep under Toyota timber, but it did.
Highway and Mountain Driving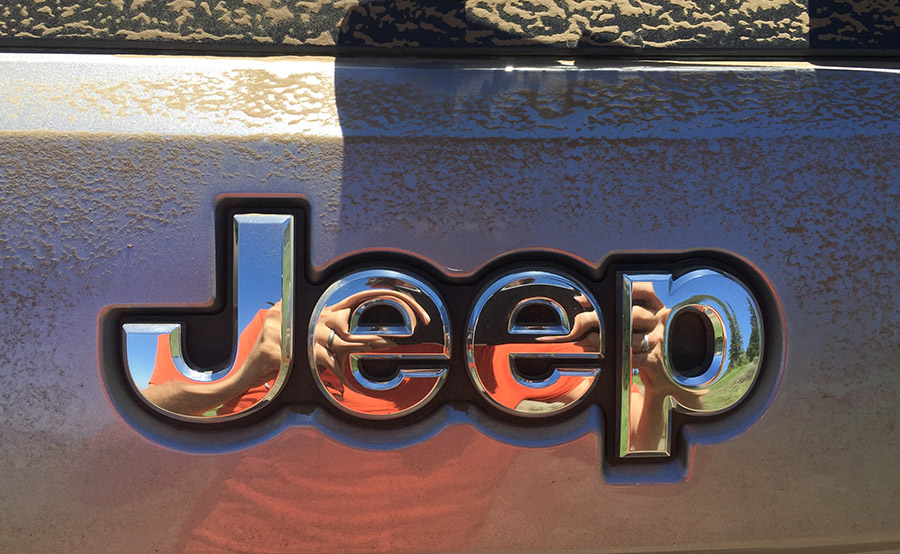 The Grand Cherokee we rented had a gorgeous black leather interior. It smelled like heaven. Granted my cars usually smell of Gold Fish and French fries because I have 4 small kids, but for that week-heaven. Although this was a work trip, I have family outside of Yellowstone so we took a trip over the mountain for a visit. It didn't take long for both my husband and I to become obsessed with the suspension. We've driven a LOT of cars, but this Jeep blew them out of the water. It was such a nice ride, the perfect blend of "squish" and support. If nurses applied their standard for walking shoes to their cars, they would all drive the 2016 Jeep Grand Cherokee. The second thing I noticed was how easily it went up the mountain. The 8-speed automatic transmission worked flawlessly to climb mountain after mountain. The "Hill Descent Control" is supposed to monitor speed and braking when you're traveling downhill, but I still had to manually downshift to control my speed on the way down. The 2016 Grand Cherokee has paddle shifters that allow you to easily change gears in such situations. At first I thought they were gimmicky, but in the end I grew to love them. It made the descent smooth and safe on a man-killing mountain.
In the City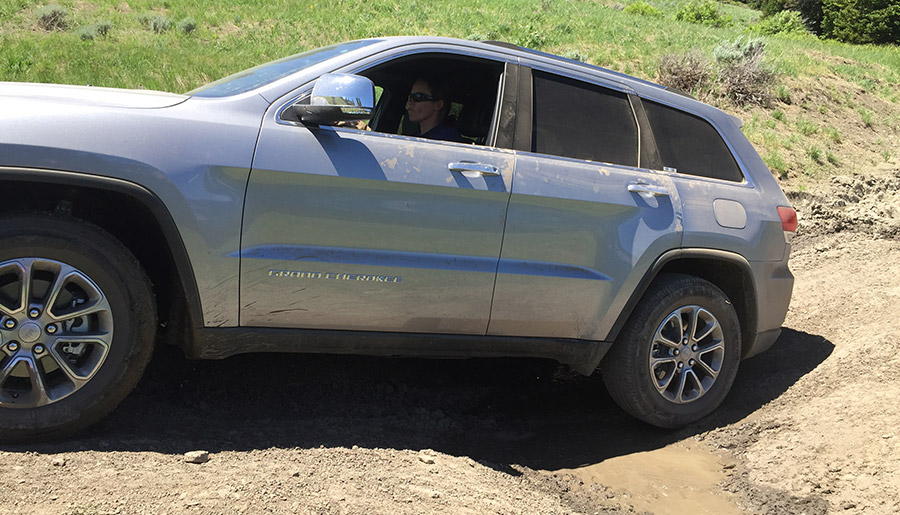 There isn't a lot of "city" in Northern Wyoming, in fact, one of the towns has the catch phrase "The Biggest Little Town in Wyoming" on its' entry sign. "Town driving" in the jeep was quiet and comfortable. The blue tooth was clear and easy to link and the ParkView Rear Back Up camera was a nice touch. The screen is large and easy to see when you are backing up in every situation. As a whole, the 2016 Grand Cherokee is luxurious and stable. My only complaint for driving around town was the new automatic start-stop feature. I drove a BMW with this feature, I hated it then, I hate it now. When you come to a full and complete stop, the engine shuts off then restarts again when you take your foot off the break. Luckily, Jeep has already planned for this potential problem with the anti-autostart crowd by putting an autostart button on the dash that allows you to deactivate this feature. Autostart increases your MPG and is better for the environment, but it gives me a heart attack. It must be the "crummy car PTSD" from driving too many cars that don't actually start back up when they shut off at a stop light. I'll mention it to my therapist.
Off-Road
This is where the Jeep Grand Cherokee impressed me the most. I followed my uncle's Can-Am UTV deep into the mountains where we could find the best fishing. We climbed rocky hills, traversed small streams, deep holes, and tight turns. The 2016 Jeep Grand Cherokee impressed us all. It devoured every obstacle. The Quadra-Lift Air Suspension System allows you raise the ground clearance up to 10.8 inches with the push of a button. The extra height saved my undercarriage on more than one occasion.
The Grand Cherokee exceeded all of my expectations on those mountain trails. It's a Jeep. It SHOULD do at least "alright" on that kind of terrain, but it's not like it is the Wrangler which many people recognize as a rock crawling icon. But for most people, the capabilities of Jeep Grand Cherokee 2016 will surpass the abilities of its driver. For more information on Jeep's "Trail Rated" Vehicles, check them out here. There are also some great videos about it on youtube.
A Review for Parents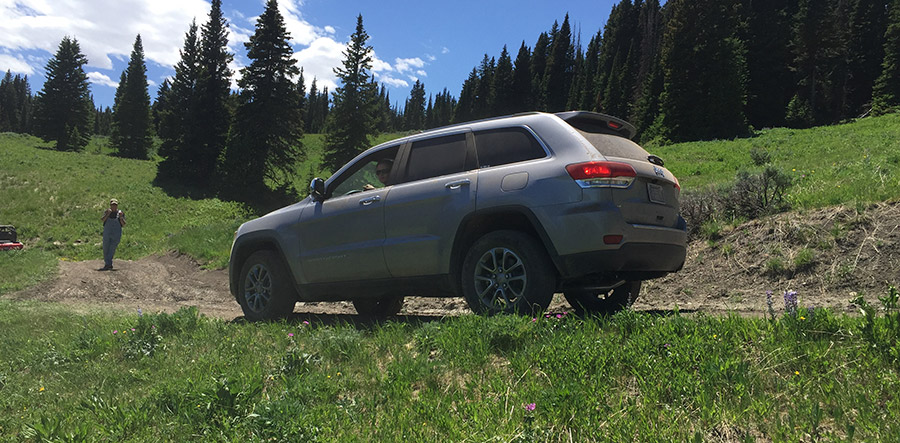 My husband and I work together, so we had our 4 month old and 2 year old in tow on this trip. I have pretty long legs so the rear facing car seat wouldn't fit behind the driver's seat nor the passengers. However it did fit in the center seat. The forward facing seat fit just fine. Another problem I found for the rear facing child was the air vents. There are vents at knee height of the person in the middle of the back seat which is plenty for three people facing forward, but a rear facing car seat really doesn't benefit from those vents. On a positive note, the trunk opens and closes with the push of a button. So when you are scrambling to load or unload all of your "treasures" (some might call it "junk") while trying to keep your toddler from freeing all of the animals in the pasture across the street, it's nice to click that button and know that your trunk is shutting so you can focus on your tiny animal activist. Other than those qualms about the rear facing car seat, the only other thing that I would appreciate is a privacy wall between my seat and all of the other seats… $50 and my eternal gratitude to whichever car manufacturer answers the plea of every parent for more silence (and I DON'T mean from the engine).
Conclusion:
Overall, I give the 2016 Jeep Grand Cherokee a thumbs up. It's solid, comfortable, luxurious, gets up to 26 mpg and will take you just about anywhere you want to go. At one point on the mountain my uncle said "If it can't do THIS, then it's not a jeep!" Thank you Rental Car place for reminding me why I loved my jeeps for all of those years. #TeamJeep